Spiti – a heaven for riders, photographers, trekkers, poets, writers and many more. Spiti is a place that cannot be described in words. Through this write up, I have tried to capture the essence of the place, but one has to visit the place to believe the beauty it can offer. A variety of lakes, monasteries, rivers, wildlife, mountains – it offers a perfect off city destination to search your soul!
I had heard from various sources about AMS (Mountain sickness) and Spiti being at a high altitude, one has high chances of experiencing AMS. So before I went on this trip, I had my own inhibitions on whether I will be able to cope up, how do I get prepared so as to avoid AMS, etc etc…
Put rest to all these thoughts if you know that you love travelling! And that is what I did throughout this trip – enjoyed the travel and the mountains of course! Just leave the rest to nature. But, yes, of course I had popped a few Diamox pills 2 days before the start of the trip. I happened to visit this place during July last year which is considered as summer in Spiti.
Day 1:
We were a group of 8 people travelling. 6 of us from Bangalore, 1 from Delhi and 1 from Jalandhar. I was so excited that I could hardly sleep the night before the travel! It was an early morning flight from Bangalore to Chandigarh. On reaching Bangalore airport, we were able to get through the check-in and security quickly since we had arrived quite early. We reached Chandigarh on time and had 2 Innova vehicles waiting to pick us up.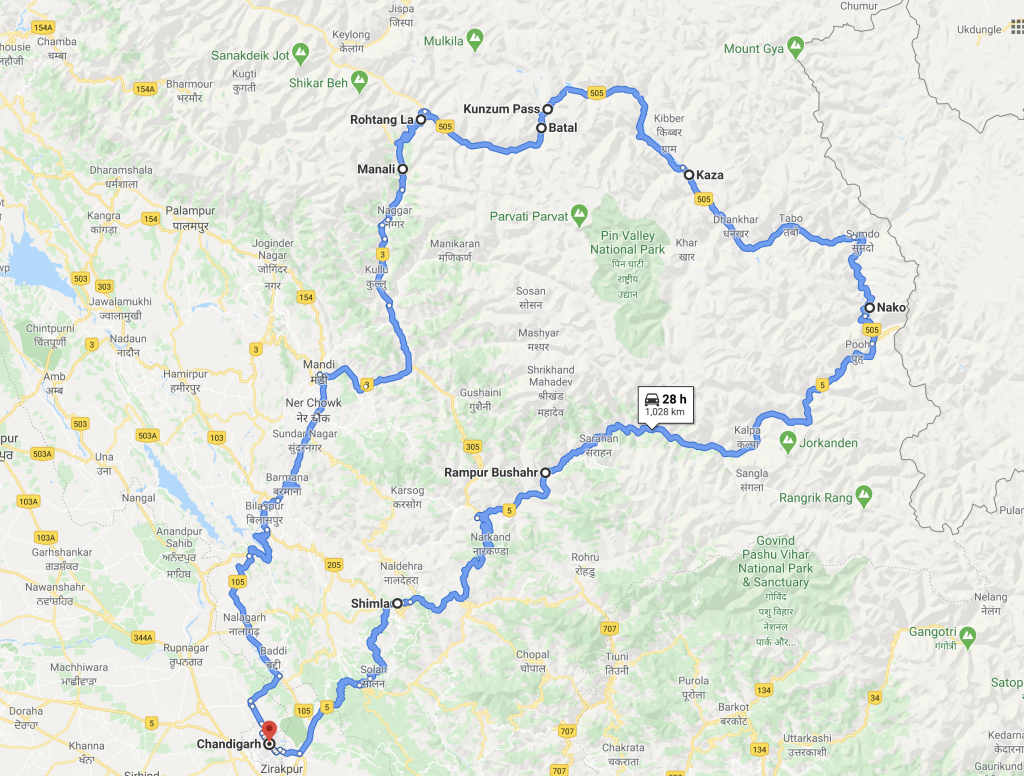 We had planned to take the route – Chandigarh-Shimla-Rampur- Nako- Kaza. It would take 2 days to reach Kaza this route and we wanted to take this route so that we could all get acclimatized by the time we reached Kaza. We loaded our luggage and started our journey to Rampur Bushahr which was our first stop. As we began our journey, the landscape slowly began to transform from the plains to the not so high mountains. We had an early lunch at Timber trails (on the way to shimla) where the rest 2 joined us on the trip. Since it was an early morning flight and we were up almost the whole of previous night, most of us in the car dozed off (except the driver ?). After a few hours, I opened my eyes to see the beautiful apple orchards! We had crossed Shimla and after a few minutes drive, we stopped to have tea and Maggi. Mist had completely shrouded the place and I could not see any surroundings.
Rampur was another good 4-5 hrs journey from here. In the hilly areas, although the distances are not too much, it feels like you have been travelling for long which is due to the winding roads. We continued our journey and after sometime I felt a little uneasy in the tummy and asked our driver to slow down a bit. We were already at about 9000-10000ft altitude. To feel better, I lowered the car window. A breath of fresh air in the mountains is good enough to recharge your batteries! It was about 9PM by the time we reached Rampur. We were staying at the Nau Nabh heritage hotel. I was looking forward to staying at this hotel since it was located right at the entrance of a palace and some rooms in the hotel offered fabulous palace views! We checked in to the hotel, got freshened up and had a light dinner. We had to hit the bed early as we had another long day of travel coming up; Oh yes and my room did not have a palace view unfortunately ☹️
Day 2: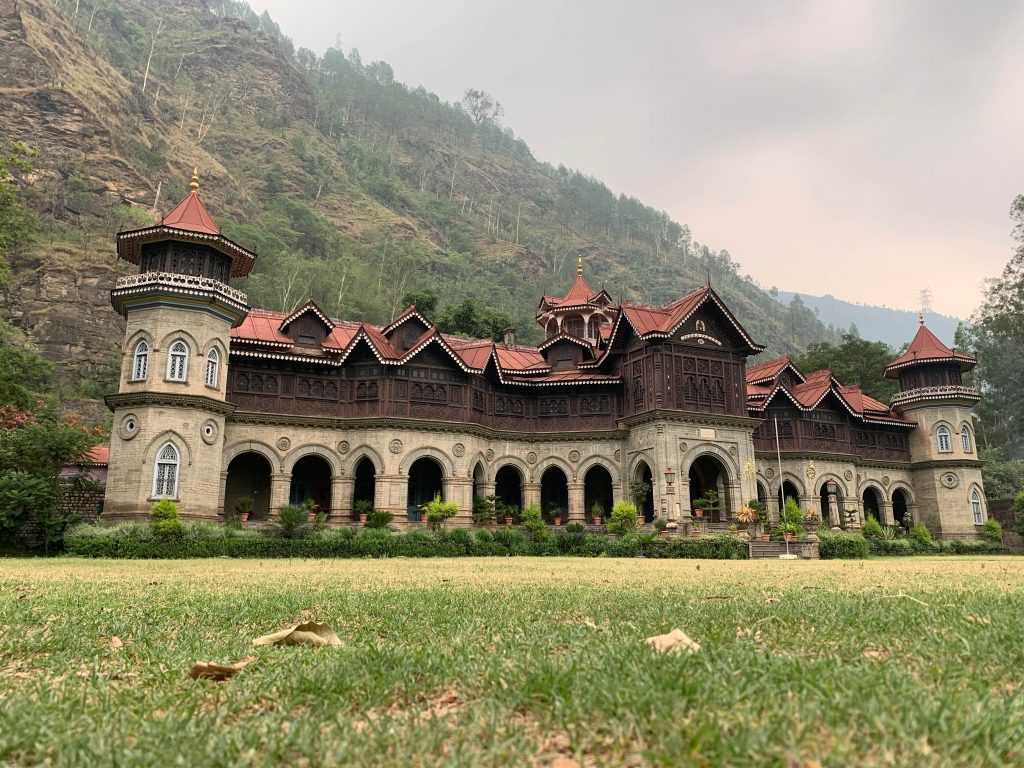 Can you believe it? We were right next to this palace the whole night yesterday! This was the first thought that came to my mind when I saw the palace. The Padam palace is a private property of the royal family of Bushahr and is said to be 300-400 yrs old. Rampur is a city situated on the banks of river Sutlej. The city is equally divided on the banks of the river.
I walked around the palace and took some pictures. It was time for us to start our journey for the day. We checked out of the hotel and left from Rampur by 7:30AM. We had requested the restaurant staff to pack us some sandwiches and fruits.
As we headed out of Rampur, river Sutlej also moves along with you in its full rigour.
We got some beautiful views of the Kinnaur valley as we moved along – green mountains on both sides and river Sutlej flowing between the valley! The whole set up looked like a picture postcard. You suddenly realize that human being is just a minuscule!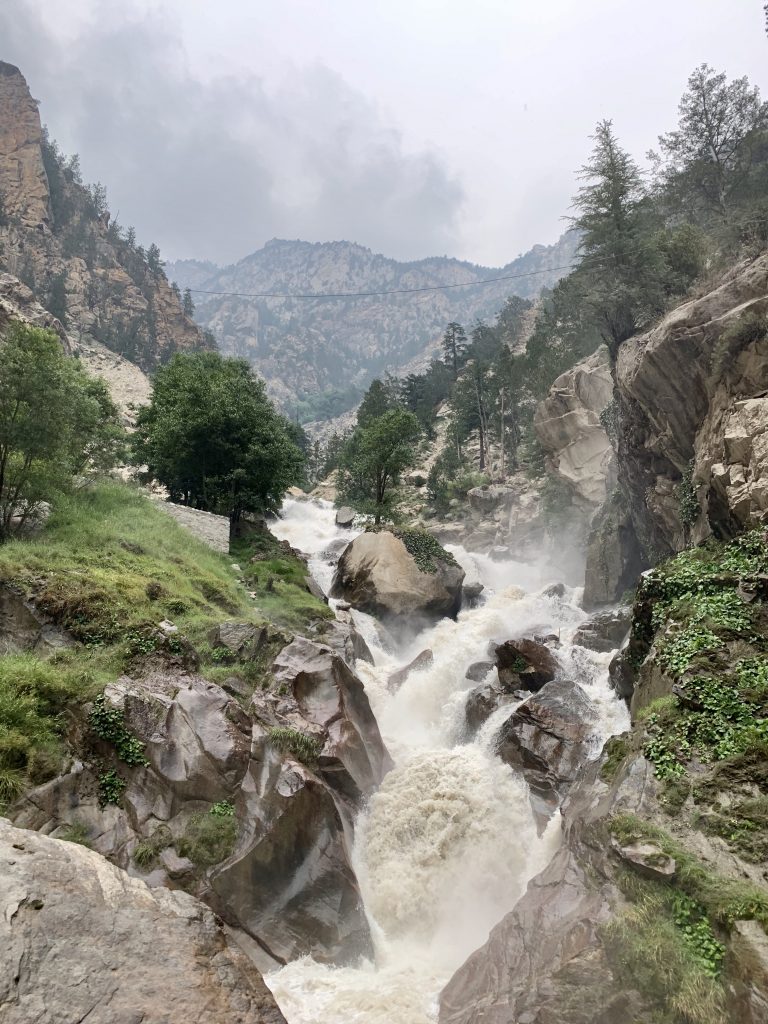 After about 2 hrs drive from Rampur, we stopped at a village called Tapri to have breakfast. It was a small dhaba on the main road but the parathas were just awesome!
As we moved on, the views of Kinnaur valley only kept getting better! A few hours into the journey, the roads became narrower, you can see deep gorges right next to you, and mountains are now higher, less green with huge rocks
Suddenly, the car in front of us came to a halt. We noticed that a huge boulder had blocked the road.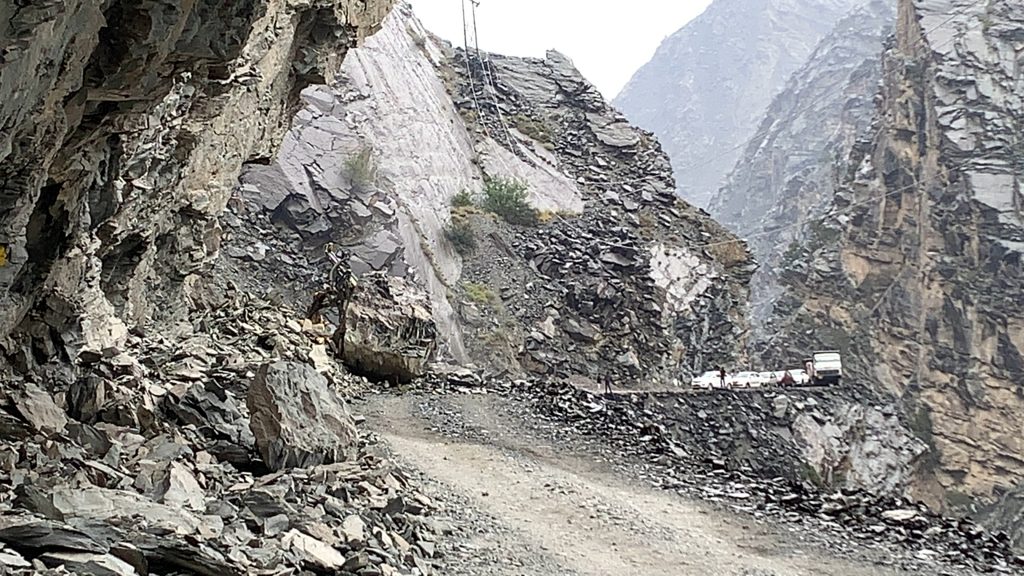 This is quite a common sight in the hilly areas. A few minutes later, the BRO (Border Roads Organization) folks came and inspected the cause of road block and tried to move the boulder with help of a crane which did not work. They then decide to blast the boulder with dynamite! Now all this seemed to me like I was in a ShahRukh Khan movie set up – mountains all around, river flowing, deep gorges and in the midst of all of this, the BRO folks trying to blast a huge boulder! While the BRO was doing its job, we quickly grabbed the sandwiches that we had packed from Rampur. Soon we heard a loud blast! BRO was indeed successful in using dynamite to blast the boulder. Blocked road got cleared and we were moving again.
After a few minutes' drive, we reached a spot where rivers Spiti and Sutlej join. This is the point from where you get a glimpse of the mountains in the Spiti valley. We had tea here, took some pics and continued our journey. It was a steep ascent from this point. We now were getting some amazing views of the Spiti valley. As we turned around in one of the hairpin bends, I noticed something not very big cross the road. I could not figure out anything regarding the animal since it was too quick in crossing the road. Later our co-traveller informed us that it was a Himalayan Red Fox! We reached Nako around 6:30 PM. We had to drive through a very narrow village road to reach Kanyogh Kinner camps which was our stay for that night. The location was simply mind blowing. Located above the Nako Lake and facing the Himalayan ranges, I felt like I was in heaven.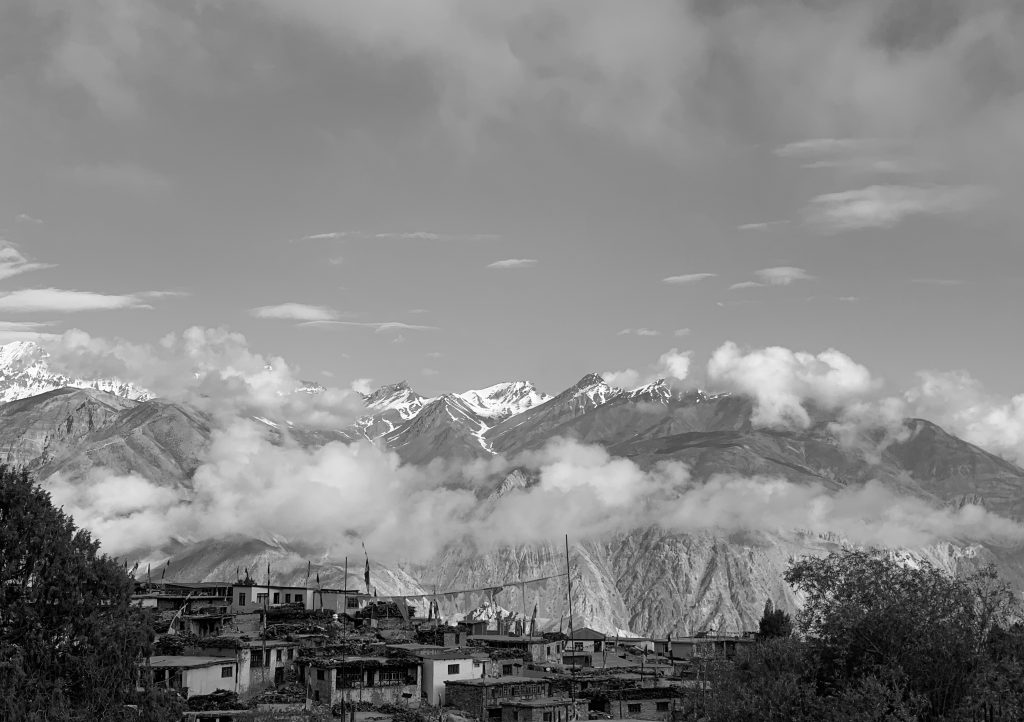 The weather was extremely cold and windy. We put our luggage in our respective tents, put on layers of warm clothes and got out of the tent to do some photography. We spent rest of the evening admiring the place and taking pictures. We had dinner and tucked into our tents soon after.
Day 3:
Alarm rang at 4:45 AM. I woke up immediately as I did not want to miss the sunrise. My friend had told me the exact time of sunrise over that location was around 5:20AM. How often do you get to see the sun's first rays falling on the snow kissed mountains!
I quickly freshened up and got out of the tent. I first glanced at the mountains in front of me; the sun had not yet risen. It was twilight. I was also a little disappointed since it was quite cloudy and soon the mountains were covered with clouds. After a few minutes, we witnessed the sun's rays falling on some of the peaks.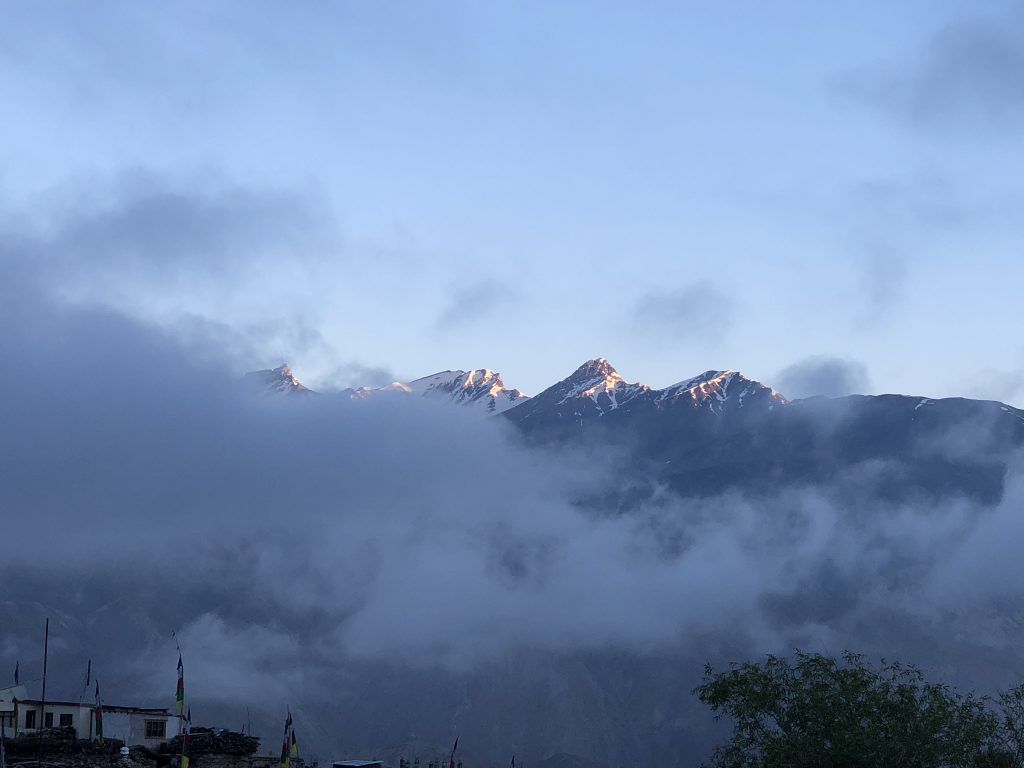 It was a sight to see! As if the sun god himself bowed down to the mighty peaks seeking permission to spread his light far and wide.
At about 8 AM , we began our journey in the Spiti valley; After a few mins drive from Nako, the Spiti valley opens up in front of you. Almost barren mountains touching the sky, patches of clouds trying to cover the mountains, winding roads and Spiti river flowing through the valley – it was a spectacular setting! On the way, we decided to visit Giu which is known for its "Mummy". Giu is a small village at about 10000 ft height and has a shrine where the mummy has been kept. It is more than 500 years old and they say it is of a lama. What was interesting about this mummy was, it was kept intact through a natural process – no chemicals used!! On reaching Giu , the first thing I did was to have a look at the mummy while the rest got into serious photography and a few others into chai and maggi therapy!!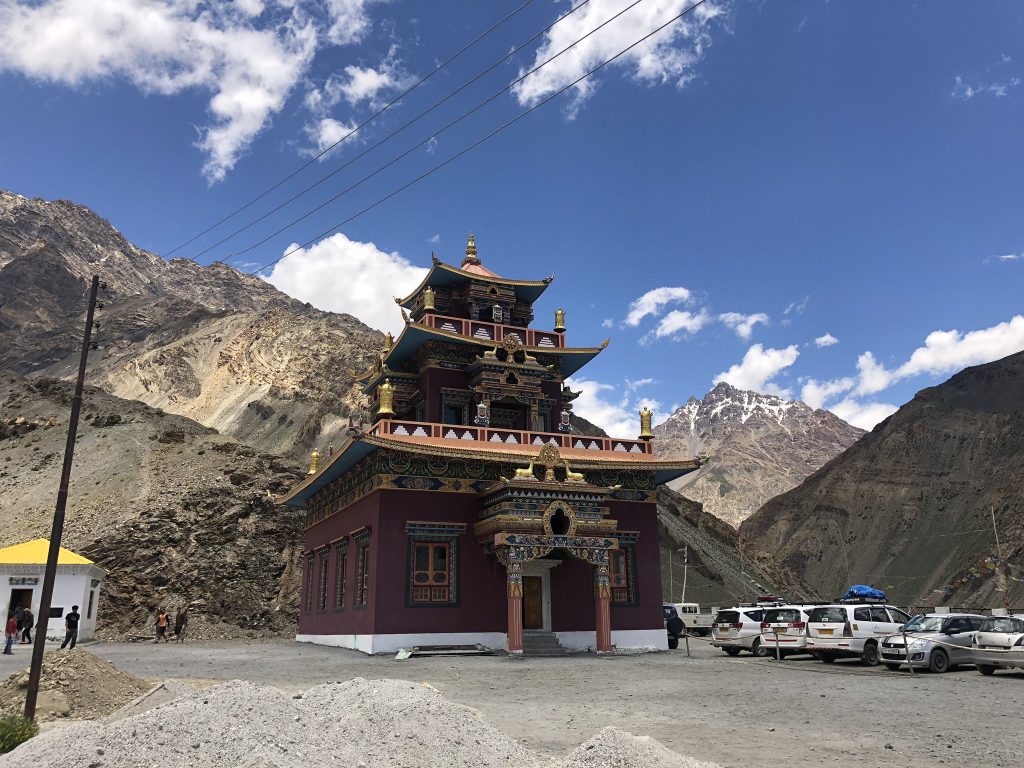 After Giu, we headed towards Tabo. Tabo is a small town that surrounds a Buddhist Monastery which is said to be over a thousand years old. As we reached closer to Tabo, we saw mountains which had caves in them. They looked like black specs to us. These caves were used for meditation is what we heard.
We reached Tabo around 3-3:30 PM. Due to reasons, we did not visit the Monsatery. We had lunch at the Tiger den restaurant. I ordered for the "Thukpa". Thukpa is a Tibetan noodle soup and it is definitely worth a try here! Kaza is about 50 kms from Tabo which was another 2 hours drive. A few kms before Kaza, we spotted a green field and there was a herd of blue sheep grazing in it! We stopped and got down from our vehicles, moved stealthily to photograph them but they were driven away by another group of tourists?. Bluesheep is a high mountain sheep which survives in high altitudes and are a preferred prey to snow leopards. Finally, we reached Kaza – Headquarters of the Spiti region and our first stop was at a Petrol pump. Yes we made it! This was the feeling I had because I was happy that the journey so far was quite smooth unlike what I thought it would be!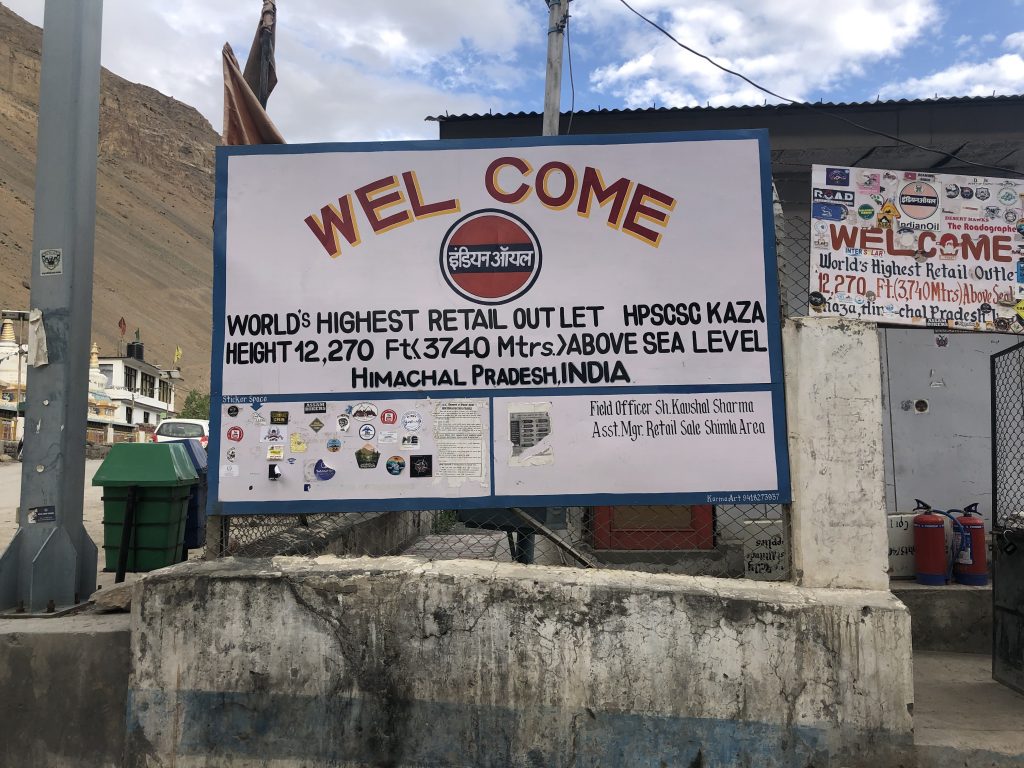 Hotel Dewachen retreat was our stay for the next few days. Located on the banks of river Spiti, the hotel building has been built with mud walls. Grand Dewachen is designed to amalgamate the traditional and the contemporary. The hotel offers one of the most beautiful accommodations in Spiti! I was simply amazed at the way the staff at the hotel welcomed us. Everyone wore a smile on their faces and carried our loads of luggage into our respective rooms and to add to this we were given a cup of hot ginger lemon honey tea. The drink was apt for the weather. Rest of the evening was spent freshening up and having dinner.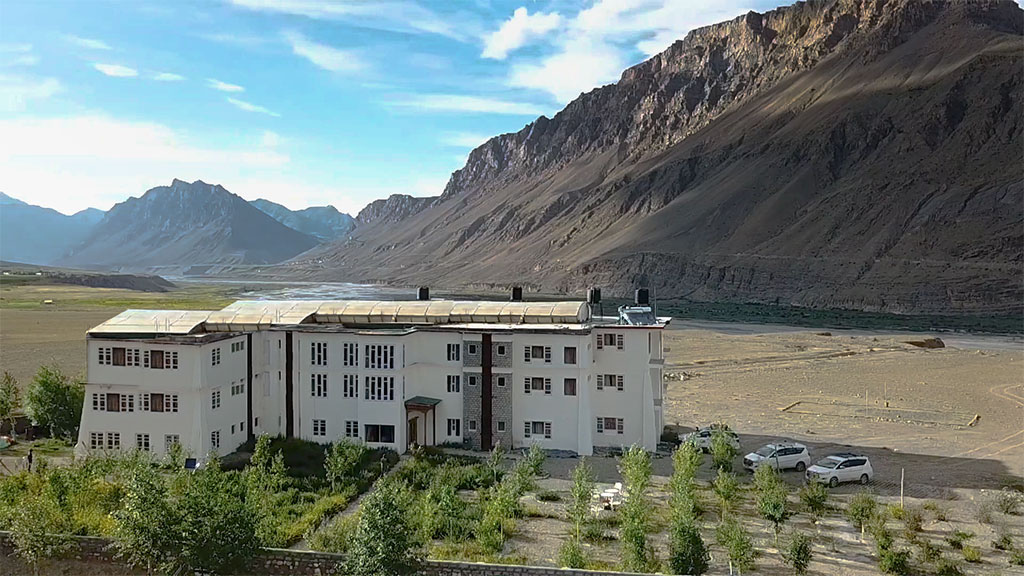 Day 4:
After a good night's rest, we were all set to explore Spiti. We had breakfast at the hotel and left for Kee monastery which is about 10kms from Kaza and located at an altitude of 13,000+ft above sea level. It is the biggest monastery of Spiti valley and is a religious training centre for lamas. The monastery accommodates nearly about 250 monks. What is beautiful about this monastery is its location – perched on a hill surrounded by high mountains and Spiti river flowing next to it, it is a sight to see! We spent some time taking pictures and videos of the monastery from different locations around it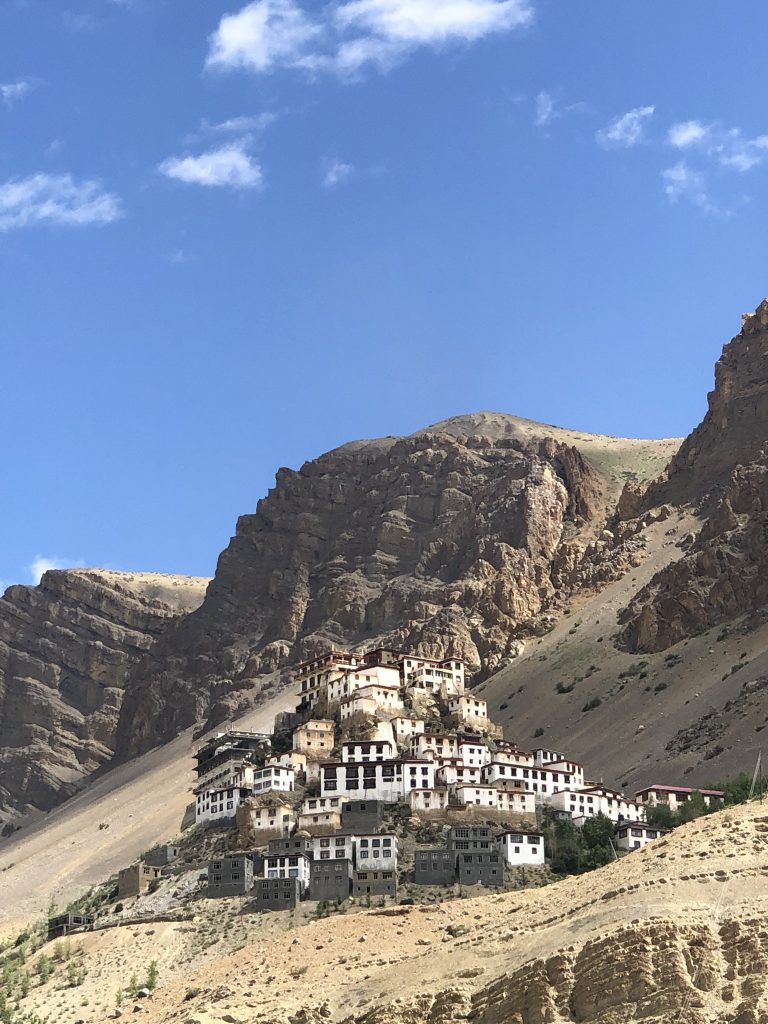 After Kee, we drove to the Kibber sanctuary area which was just a 15 min drive. This sanctuary is home to several rare animals including the elusive snow leopard!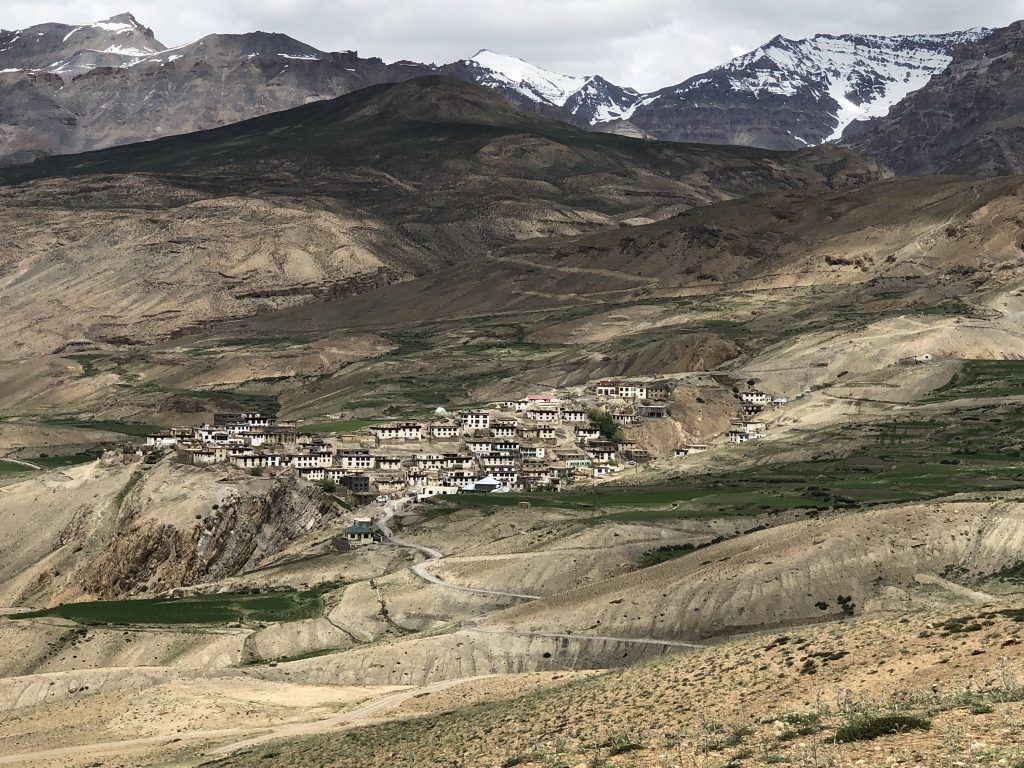 As we ventured into the Kibber area, we were hoping to see a snow leopard, but, in reality it is very tough to sight snow leopards during summers since they move to the peaks where they can find snow and prey. Suddenly, one of us sighted a herd of blue sheep running towards the edge of a cliff that was on the other side of the valley. We stopped and waited to see what was causing the sheep to run so swiftly! Was it a leopard?? A few of us got down from the vehicle to get a better view of what drama was unfolding on the other side of the cliff, infact 2 of them nearly went sliding to the edge of the cliff we were standing on to get clarity, but Alas! We could not find the reason and left from the place.
We drove around Kibber and got back to the Kee monastery. Some of us went along with Dorjee to see the monastery. We got introduced to Dorjee at our hotel. He is a localite and had very good info about the Spiti valley and a very friendly person who helped us throughout the trip. I happily climbed a few steps and moved up a road leading to the monastery in my normal pace. After moving a little further, I was feeling tired and gasping for breath only to realize I was at 12000+ feet height!! I stopped for a while, reduced my pace and slowly climbed up to the monastery. We entered a room inside the monastery where the monks were seated and having breakfast – It was thick bread. They finished their breakfast and headed to a gathering just outside the room where a cake was being cut. I kept wondering what the occasion was. Then got to know it was Dalai Lama's birthday!! We had cake and sweets and got back to the car park area.
From Kee monastery, we headed to "Deyzor" in Kaza. It is a hotel located right at the centre of Kaza. It is a perfect place for travellers to relax, recharge and connect with other fellow travellers. Besides the owner and the caretakers who extend a warm welcome, you also have pets who join them in welcoming the guests! The hotel has a very friendly and informal atmosphere. On the walls you will see friendly photographs, artefacts and memoirs collected from all over the world arranged very neatly. They serve lovely organic food and believe in sourcing and using locally made products! In all it was a beautifully decorated restaurant! Mr. Amar, one of the caretakers at this place was kind enough to take me around the place. The ground floor had the restaurant and kitchen while the first floor had all the guest rooms. Each of the guest rooms was named after the peaks in Spiti valley. I was completely smitten by this place. And to top all of this was the food! The food was delicious and felt like I was having home cooked food. I seriously recommend this place to all travellers who are passing by Kaza!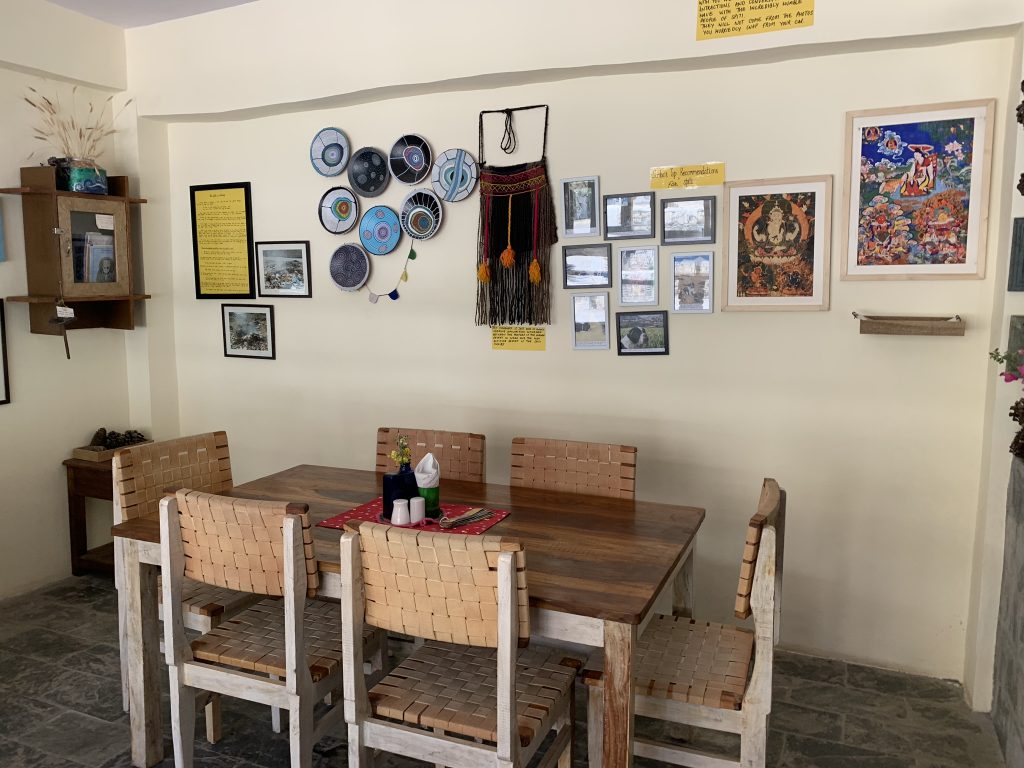 After a wonderful lunch at Deyzor, we headed back to our hotel. It was about 5 PM by the time we reached the hotel. We spent rest of the evening at the hotel.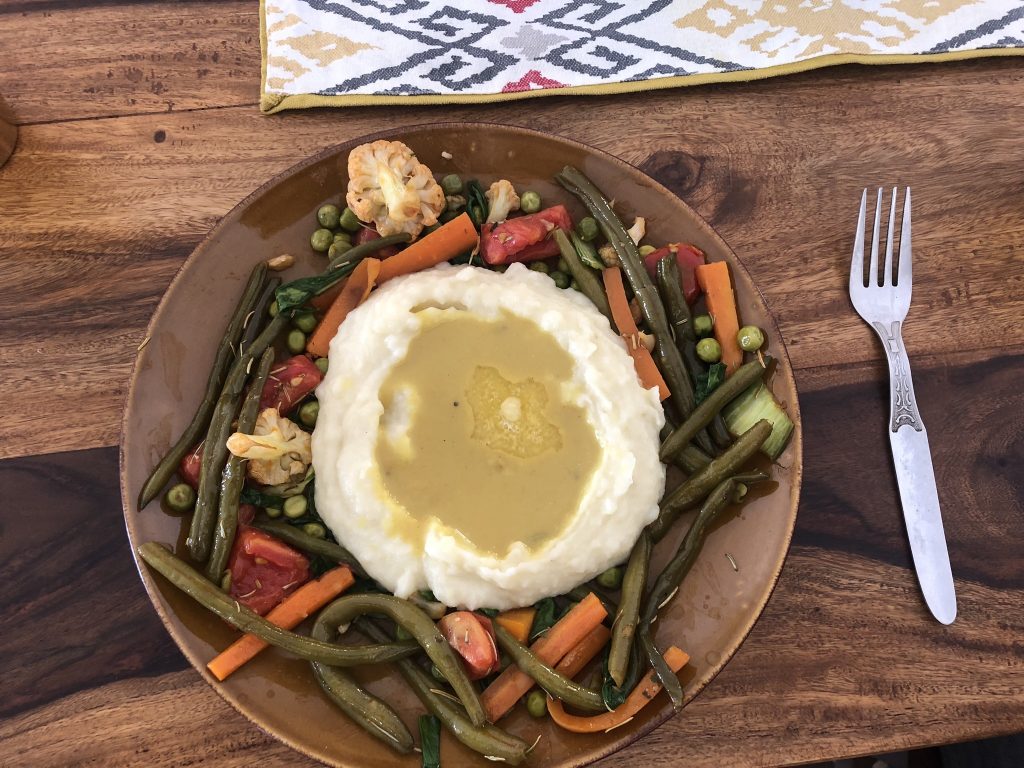 Day 5:
After breakfast at hotel, we headed to the Chicham Bridge. Spiti valley is home to Chicham bridge- the highest bridge in Asia, and quite an astounding spectacle at that! It is located at a staggering height of 13596ft and connects two villages – namely Chicham and Kibber. We stopped near the bridge and took pictures/videos. One can get some awe-inspiring visuals from the bridge. Clear skies, prayer flags tied to the bridge, deep gorges, and barren mountains!! What more can you ask for! This spot was quite popular amongst bikers as well. I walked on the bridge and happened to look down – if you look down, you will find yourself gaping below, at a 1000ft deep gorge. After crossing the bridge, travellers can also move towards the Chandratal Lake.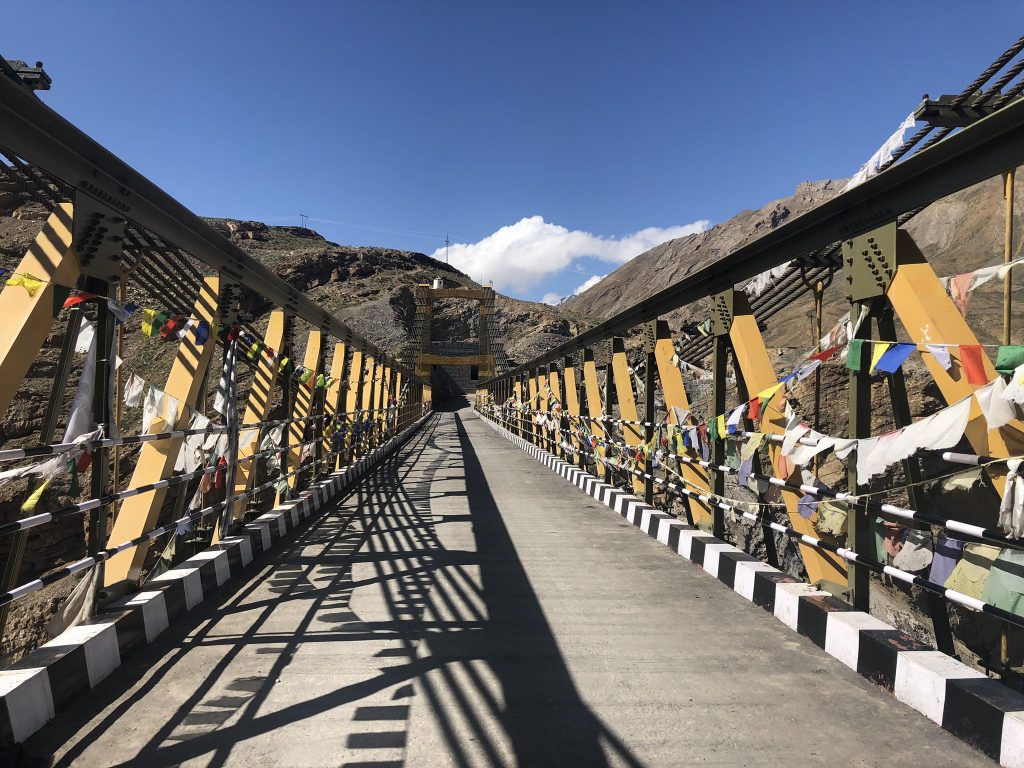 From here, we headed to a point beyond the Chicham Bridge which is on the way to Kiato village. Well, the spot we were heading to was quite an epic one. Guess what!! I heard Akshay Kumar was put up in Spiti for more than a month and it was for his movie shoot – Kesari and we were heading there!! I was excited as a kid to see the location. On reaching the location, I immediately got down from the vehicle and took a 360 degree look around to check if I could exactly spot which area/location appeared in the movie! The location was beautiful – you can see vast stretches of open plain land surrounded by barren mountains in the distance. We spent some time at the location and headed back to the Kee monastery to take a few strategic pictures of the monastery from different viewpoints.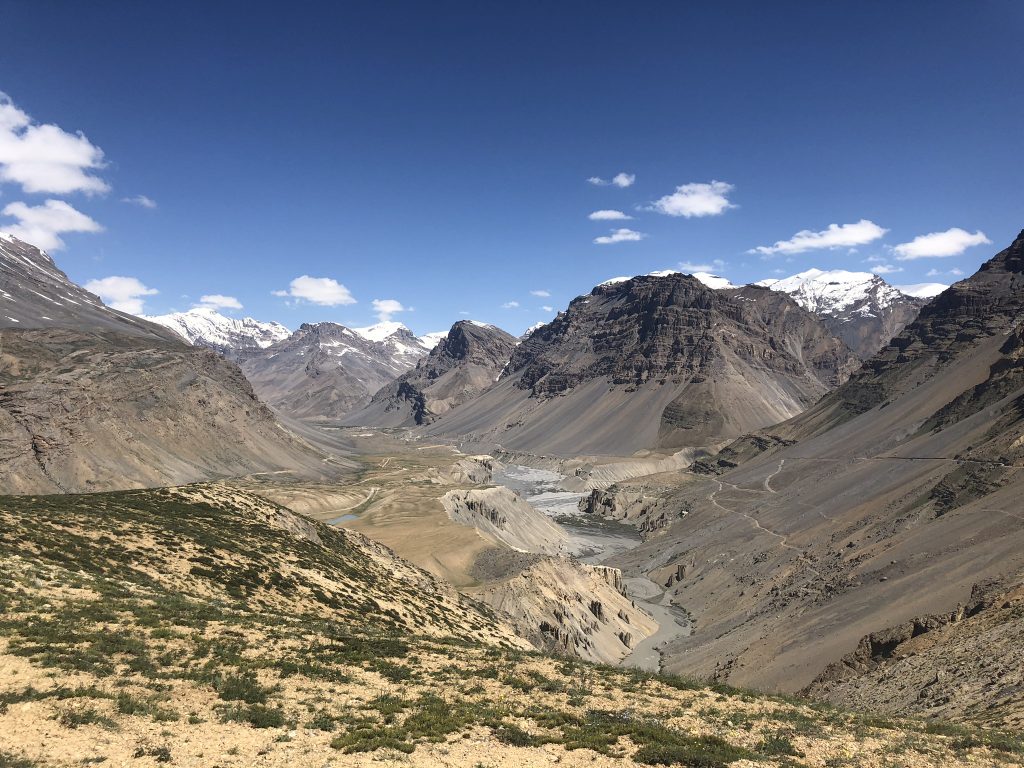 It was lunch time and I could hear rumbling noises from my tummy! Luckily one of our friends from the hotel who had accompanied us knew people in the monastery. He suggested we have lunch at the monastery. Without a second thought we went inside the monastery. We were given plates which we had to wash and serve food ourselves. It was a simple and tasty lunch – Rice and Dal. We got back to hotel after lunch. After a short afternoon break, we were heading to a view point called LD view point. Little did we know that this view point would turn out to be one of the highlights of the trip!
We started from our hotel by about 4 PM. Drive to the destination was about 1-1.5 hrs and we had plans to be at the viewpoint much before sunset. Throughout the drive, it was quite a steep ascent. We could now see the peaks getting closer and as we moved up, we began getting better views of the entire valley. We stopped at Hikkim – world's highest post office! I was eager to see the post office.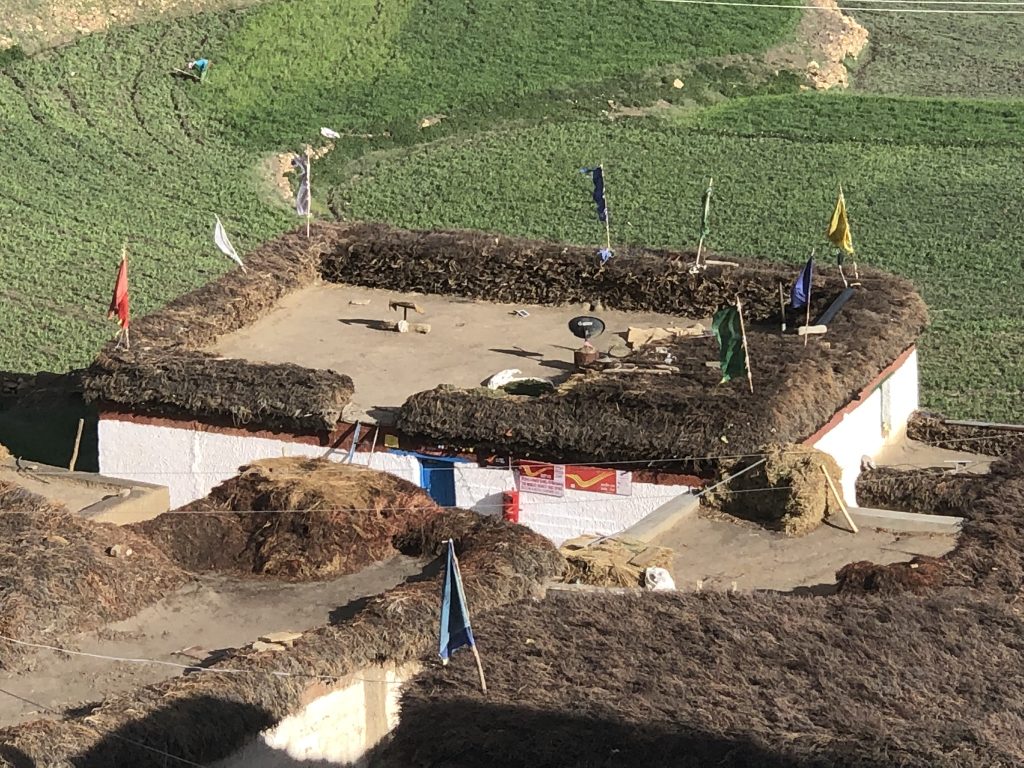 I was so excited that I picked up a postcard and sent it to one of my friend in the US. The message read – "sending best wishes all the way from the world's highest post office".
We grabbed a hot drink at a stall nearby and were set to move ahead. Along the journey, we saw a restaurant at Komic village which had a board that read – "World's highest cafe". We were now at 15000+ feet altitude and we were now getting clear views of the peaks from all sides. A few kms drive and the cars in front of us stopped. We had to walk from this place to the view point. It was a 5 min walk and after reaching the point, I just could not believe what I was seeing!! What a view it was! It felt like maybe this is heaven??! I had never seen the Himalayan peaks so clearly and some really close. It was like witnessing the best part of the earth from this viewpoint! So beautiful that I was left teary eyed. Well the tears were due to a mix – of emotions and the strong, cold winds ? . I was just standing in awe of this place for about 5-10 mins. It was a viewpoint with a 360 degree view.I was unable to decide which direction provided the best view since it was mesmerising from all angles. Peaks such as Chau Chau, Manirang and Kanamo were clearly visible.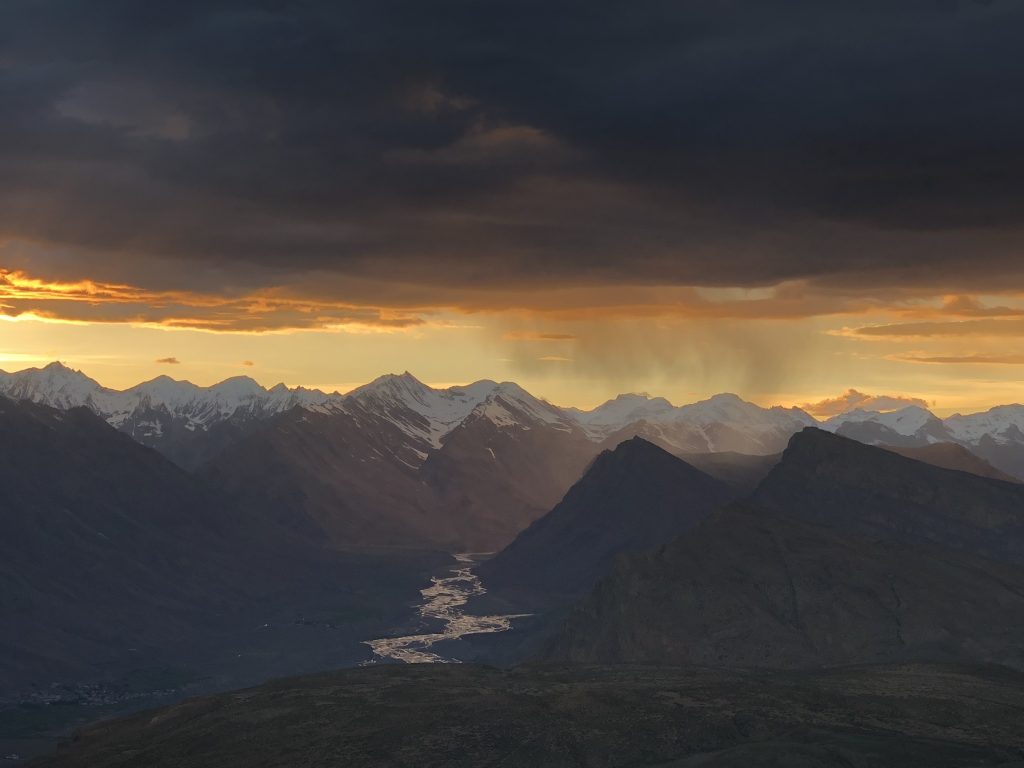 As the sun began to set, the sunrays played hide and seek with the clouds trying to cast their spell on the peaks. Spiti valley just looked amazing from this point and the Spiti river looked like a serpent moving through the valley. The view was so dramatic that it is difficult to describe it in words!
Although all of us were equipped with warm wear, it started getting colder as the sun went down. Suddenly I hear someone shout – Tea! It was time to have some hot tea, just what was needed at the hour. We all had hot tea and got back to clicking pics/shooting the dramatic location. No camera can ever capture the beauty seen from this place. It was time for us to head back to the hotel. Wind was getting stronger and it got colder. We got into our vehicles and headed towards Deyzor hotel. I could not stop thinking of the place throughout my journey back to the hotel hoping to get back again soon! For that night since there weren't enough rooms for all of us at Hotel Dewachen, some of us stayed back at Hotel Deyzor. We had light dinner and wrapped up for the day.
Day 6:
We had a comfortable stay at Deyzor the previous night. Later, a few of them headed to Rangrik village to do people photography while myself and a few others stayed at the hotel and checked out by noon to go back to Hotel Dewachen. We had plans to visit the PIN valley that day. It is said that if one happens to see from the Rohtang pass, the awesome vista of bare, brown mountains; hanging glaciers, snowfields that dazzle in light – PIN valley is part of this beautiful land and showcases one of the best floral and faunal species that Himalayas can offer! I was so looking forward to go here. We had lunch packed and started from the hotel by 1:30 PM. PIN valley is a national park located in the Spiti district. This national park spreads from the south of Dhankar gompa near the Tibetan border and marks the border between the formerly separate districts of Lahaul and Spiti. After about an hour's drive from the hotel, the road forks, one leading towards Tabo and the other enters PIN valley. This is also the place where rivers – Parvathi and Spiti meet. We took the road to PIN valley and after a few minutes' drive from here, the PIN valley opens up. The valley is beautiful and much greener than the valley around Kaza. As we went ahead, we saw a couple of villages which were sparsely populated. With the roads being winding, muddy and narrow, the drivers found it challenging to navigate. As we moved higher, we got better views of the valley. We finally reached a point where the valley was clearly seen. Of what I had heard of PIN valley, this place definitely exceeded my expectation!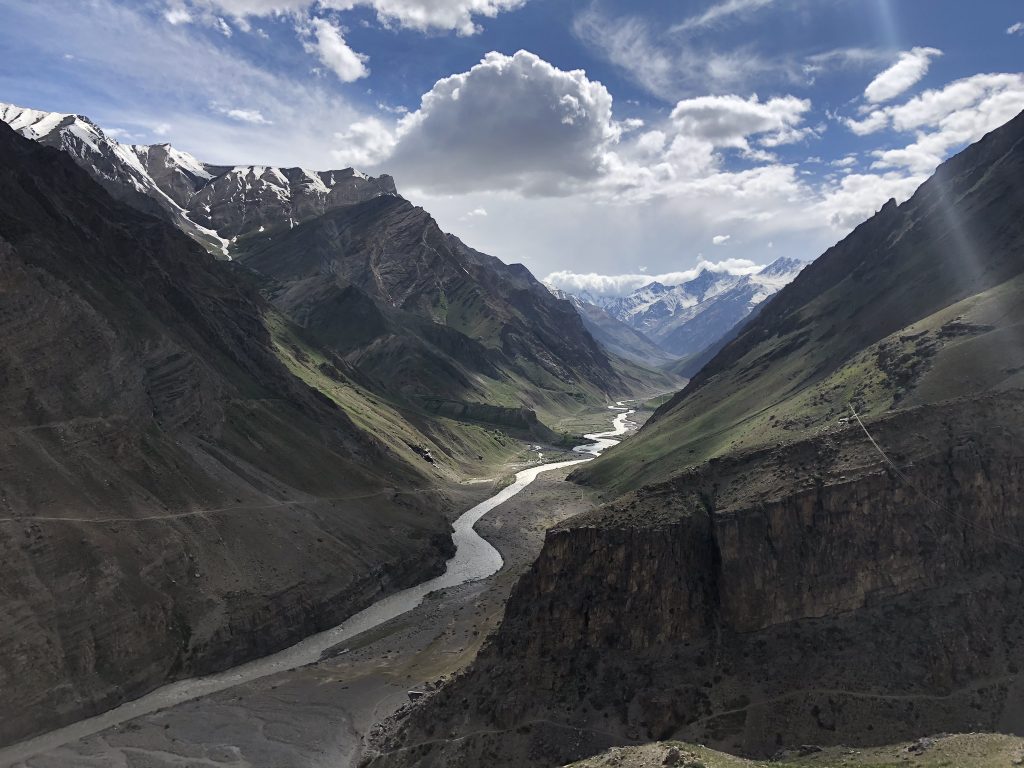 We got down from the vehicles and decided to have lunch at this point. We took some pics of the valley and headed back.
We reached hotel by 7-7:30 PM.
Day 7:
We had plans of heading to the Kibber village to witness a village festival. The festival is usually conducted every year to please the gods so that they can have good rain and keep the rivers full. We had heard about the culture and people in Spiti and could not find a better way to experience both than to attend this festival! We had breakfast and left to Kibber. At the centre of the village, we saw a few ladies who had gathered with their kids. They waited as more would join. Then came the head priest and conducted some rituals. We all watched the rituals being performed with great interest. They sang and danced, visited the temple atop a hill and ended the celebrations. We got opportunities to take some lovely pics.
We came down to kaza and had a relaxed lunch at the Himalayan Cafe. Later, we got back to the hotel. In the evening, I decided to take a walk. I walked upto the Rangrik village which was about a km from the hotel. It was quite a peaceful walk with deserted roads, barren mountains all around, moon just showing up in the clear evening sky. I enjoyed every bit of the walk. As I was walking back to the hotel, I noticed a small temple on the top of a hillock. It was all lit up and I could hear some devotional songs being played. So, I decided to visit the temple another day before leaving from Spiti.
That night after dinner, we wanted to do some night photography. When the infinite stars take over the vast sky to become a glittering spectacle, all you want to do is close your eyes and save this picture in the labyrinth of your mind! Spiti valley gives you an opportunity to live this dream with its clear sky and zero pollution .We wanted to do a little more than only capturing it in our mind – capture it in pictures! So we chose a field opposite our hotel as the location to shoot the Milky Way. While a few of them got busy setting up the cameras, some of us got busy spotting the "foxes"! The Himalayan red foxes are a common sight here in Spiti. We did spot a few of them – They were quite shy and we could only see their eyes shining bright.
While some of them continued doing photography, some of us who were sleepy, got back to the hotel. Overall we had a memorable day – who would have imagined doing night photography in Spiti with the foxes moving all around you!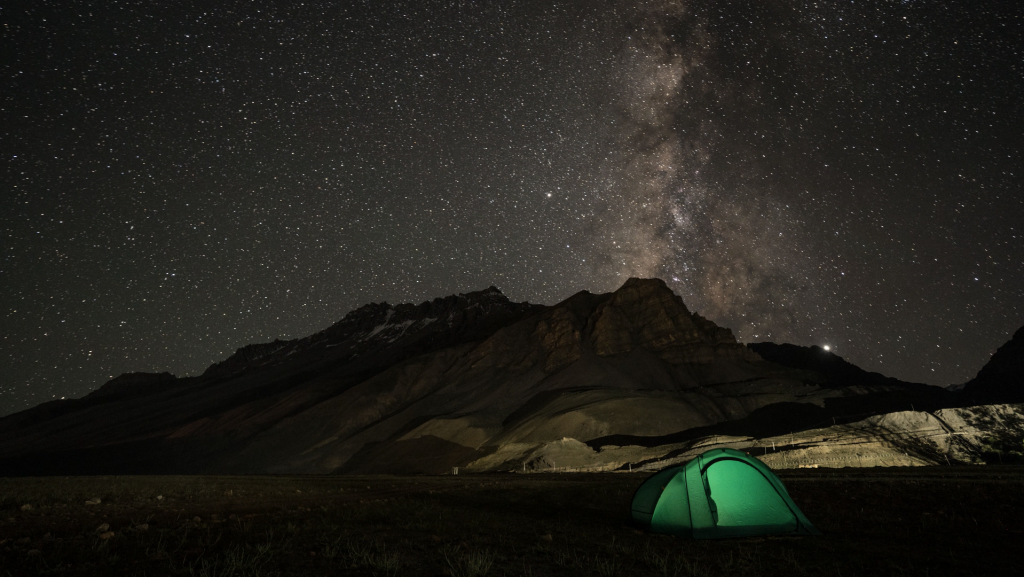 DAY 8:
We woke up early and headed to Dhankar monastery around 5:30AM. This monastery is situated on the top of Dhankar village between the towns of Kaza and Tabo. The Dhankar complex overlooks the confluence of Spiti and PIN rivers. It took about an hour to reach this place from our hotel. On our way to the monastery, we could see the Manirang peak playing hide and seek with the clouds. On reaching the monastery, we found some strategic locations to take pics of the gompa.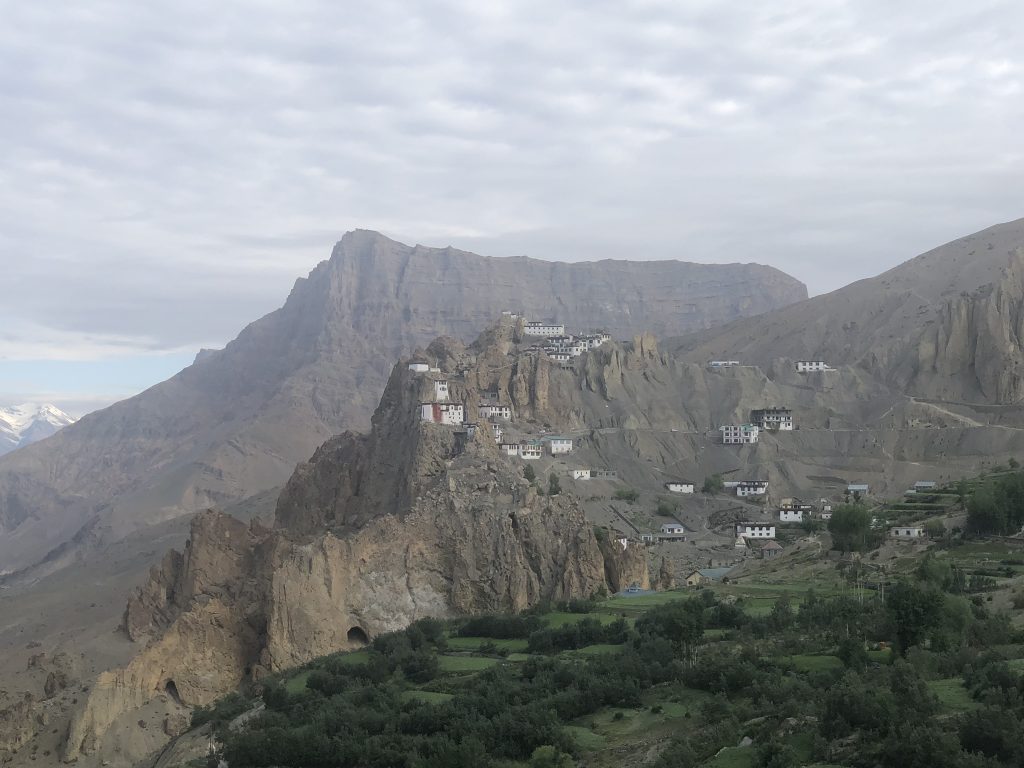 After taking pics, we headed towards the monastery complex to have breakfast. We had a warm welcome to this quaint place overlooking the cliff behind the monastery complex. We had one of the best parathas here! Perfectly crisp with dollops of butter over it, they just melt in your mouth!
Soon after breakfast, we headed back to the hotel. We spent a relaxed afternoon at the hotel talking to the friendly staff there telling our experience so far. Through our conversations with them, we also got to know that life in winters at Spiti can get really hard. Winters in Spiti are extremely harsh and temperatures are known to fall to -40 degree Celsius. Spiti in winters is frigid and imagine there is no running water too in the taps! So some of the workers opt to go out of this region for about 4-6 months, do odd jobs in places like Goa and come back to their jobs in Spiti during spring again. This left me in thoughts of how localites must be leading their lives in winter!
Later in the night, we had plans to go to the outskirts of Kaza to do some night photography again.
After dinner that day, we all headed out to the outskirts of Kaza. On the banks of the river spiti, we had noticed cone like formations on some mountains. I assume that these have been formed over the years and are sediments from the river. We wanted to photograph them and my friends wanted to try something innovative by taking pics of these structures under a starry moonlit sky. Indeed the night was beautiful with clear sky and chill in the air. We all got out of our vehicles once we reached the spot and got busy photographing these structures. We spent nearly about 2 hours, got some great pics and headed back to the hotel by midnight!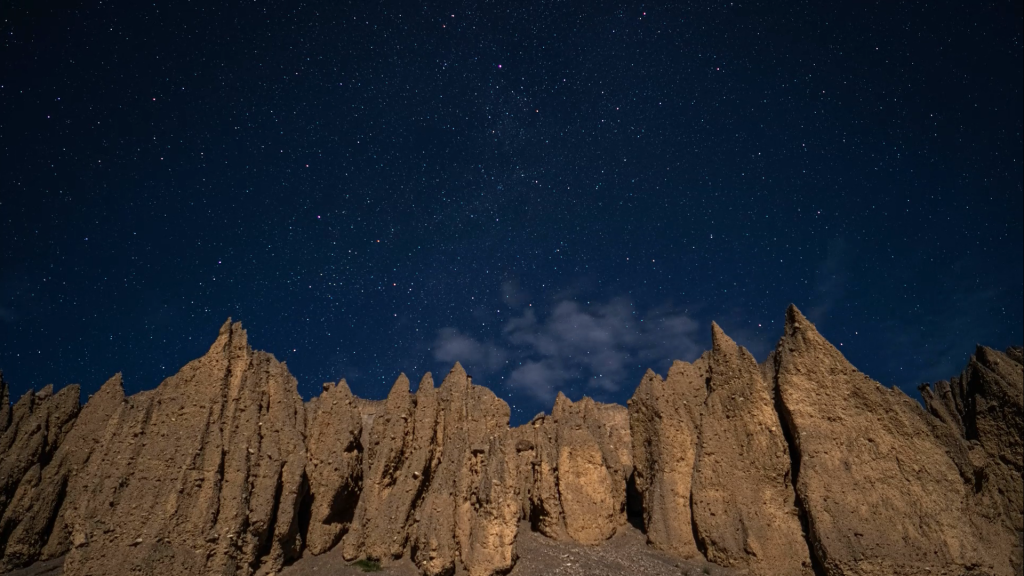 Day 9:
I decided to visit the temple I had seen on my walk to Rangrik a few days back. This temple was located on a small hillock close to our hotel. I found my way to the temple through the garden of a power plant unit. I managed to reach the temple by climbing broken steep steps only to find the pandit of the temple missing! I did not want my effort to go a waste. Luckily, the temple gate was not locked. So I got in and was happy to see an idol of the goddess. I offered my prayers and got back to the hotel. Felt happy as though I had accomplished a great feat!!
After lunch that day, we had plans to visit the LD view point again. One of my favourite spots in Spiti!
We started from the hotel around 4 PM. This time we had plans to stay a little longer at the view point
After reaching the spot, each one of us took our gears out and got into action! Yes, we could not wait to start shooting as the drama between the mountains, clouds and the sun began to unfold! I began my experiment with time lapse and fixed my gaze at the Chau Chau peak. The sun began to set. It was cloudy; windy and freezing cold! We managed to get our shots. We already had spent about 2.5 hrs at this spot and our friend suggested that we should all get moving since it would get colder through the night. We all started from the view point towards our hotel. This viewpoint was indeed magical! Just mere words do not do justice to what we saw here. Hope the pictures and videos taken from here do some amount of speaking to what we saw!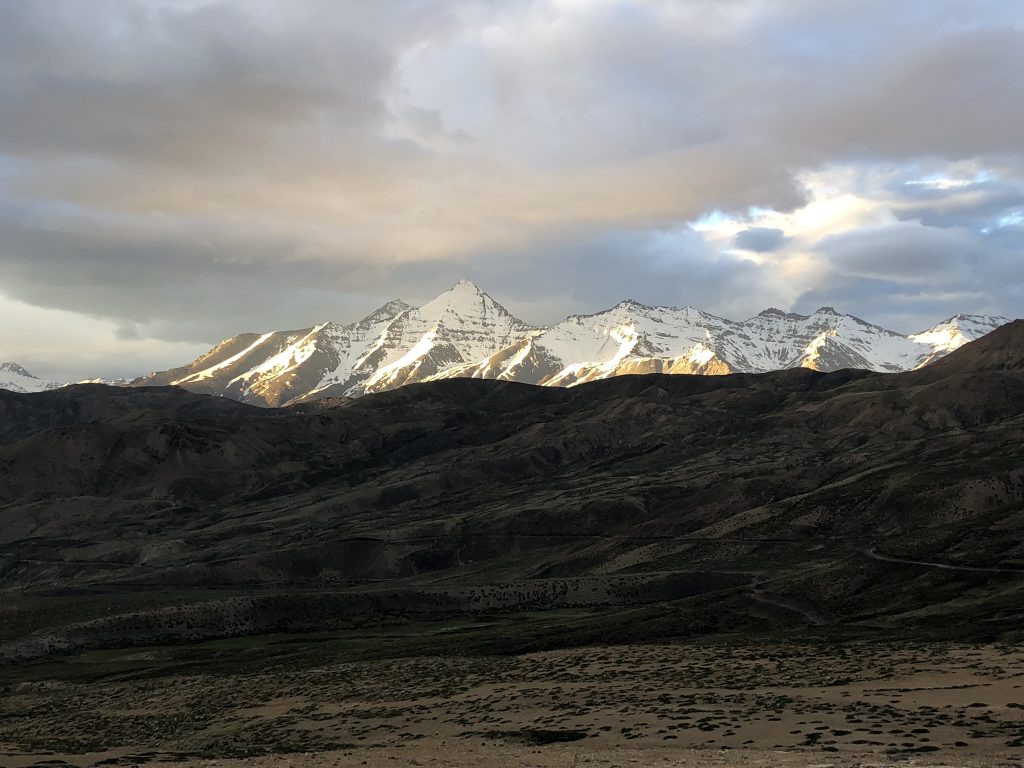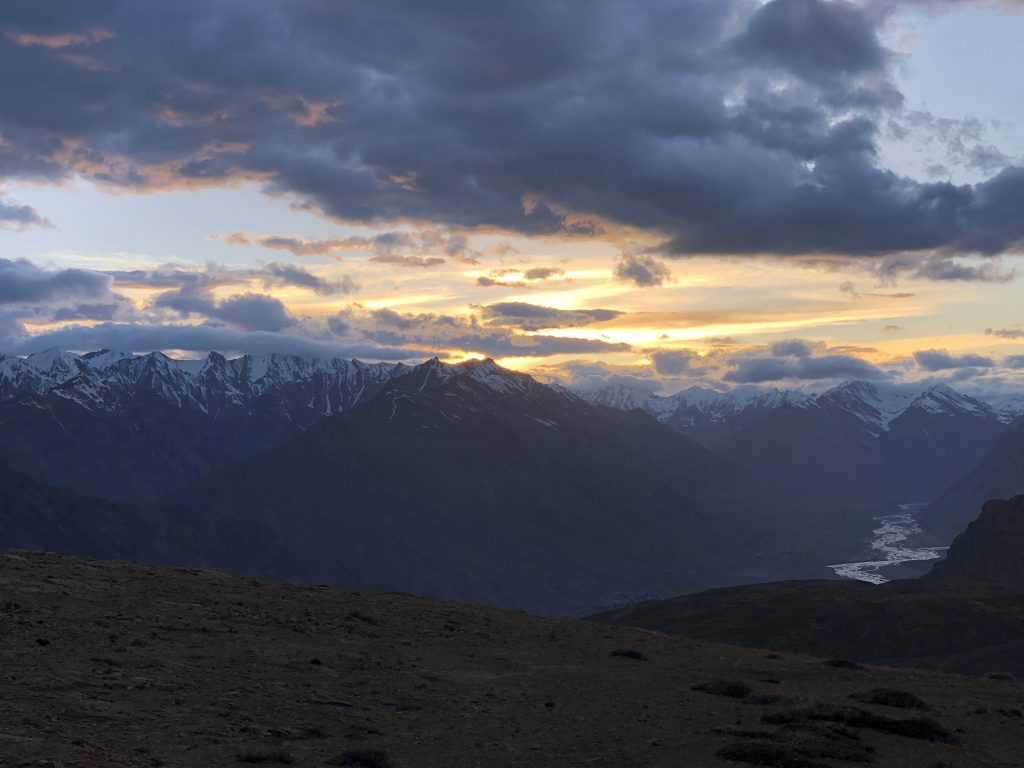 Day 10:
It was quite a relaxed day. We went to the kaza market and did some shopping. We visited a few local shops and picked up apricot oil and Seabuckthorn tea leaves.
In Himachal Pradesh, Wild Apricot is grown in many districts and Lahaul-Spiti is one of them. Apricot trees have also been found growing at 11000 ft altitude in Spiti. Traditionally people have been extracting oil from the fruits of these trees by cumbersome manual methods. The apricot oil is known to reduce the risk of cardiovascular diseases and is good for skin, hair growth and to regulate cholesterol! Hence this was one of my local picks. Also the seabuckthorn is a shrub whose leaves, flowers and fruits are used to make medicine. They grow in the Spiti valley and are restricted to the Himalayas. It is a source of vitamins, anti-oxidants, protein building blocks, and is useful for improving blood pressure, boosting immunity, preventing infections and a whole lot of other reasons making it a superfood and my choice of item to pick up!
We then went to one of our favourite places – Hotel Deyzor for lunch. Well, we visited this place almost every other day during this entire trip!
So after spending another lovely afternoon at Deyzor, we headed back to our hotel.
Day 11:
Hotel Dewachen had become like a second home for all of us! The staff and the owner – Mr. Rajinder himself made our stay so comfortable that as a gesture of my gratitude, I decided to cook something in their kitchen☺. So that morning, I went in to their kitchen when the preparation for breakfast was just about to begin. I decided to make oats pongal! There were 2 chefs and they were taken by surprise when I told them about the dish. They helped me with the ingredients and my dish was ready! We all had it with other items on the breakfast spread. I had made enough so that the staff also could have it later. They relished the dish ? and I just loved this experience of cooking at the hotel!
The rest of the day was spent relaxing and packing our bags. I was feeling sad that the trip had almost come to an end. 
Day 12:
We were heading back to Manali and had planned to leave early from the hotel as the journey was quite long and a treacherous one! We decided to reach Manali via the Kunzum and Rohtang pass. It was about 200 kms drive and a 12 hour journey. Little did we know that our drive to Manali will be over river beds, gushing rivers, traffic jams and more!
After bidding adieu to the friendly staff at Hotel Dewachen, we started around 5AM. With mixed feelings, we were leaving from this piece of heaven wishing to get back again during the winters!
We were in 4 vehicles – 2 Innova's, a Fortuner and a Gypsy. We were moving away from the Spiti valley and after crossing a few villages, we were heading towards the Kunzum Pass. It was that time of the year when the snow from the peaks completely melts forming rivulets and also blocking the road at some locations, and at one such location, one of our Innova vehicles got stuck. There were huge rocks and the car's tyre got stuck between the rocks. After a struggle of nearly 1.5 hrs, we were able to get the vehicle out! Phew! Thanks to the help offered by one of our experienced co-traveller and his car, we were bailed out of the situation.
By then there was traffic lined up and we had to get moving. We crossed a small checkpoint and as we drove further, the snow capped peaks got closer. I was quite sure that we were about to enter the Kunzum Pass. After a few mins, the ascent began. Snow capped peaks were clearly visible. Kunzum Pass is at an altitude of 15000 ft above sea level and connects the Lahaul and Spiti valleys. There were quite a number of hairpin turns as we climbed the pass and the views only got better and better as we moved higher! Kunzum pass is a haven for photographers. Beautiful glaciers, snow clad peaks; valleys give exquisite views for photography. We reached a point where we were surrounded by peaks and glaciers. We stopped here to take some pictures. Some of us played in the snow and enjoyed the breathtaking views while some got engrossed taking pictures.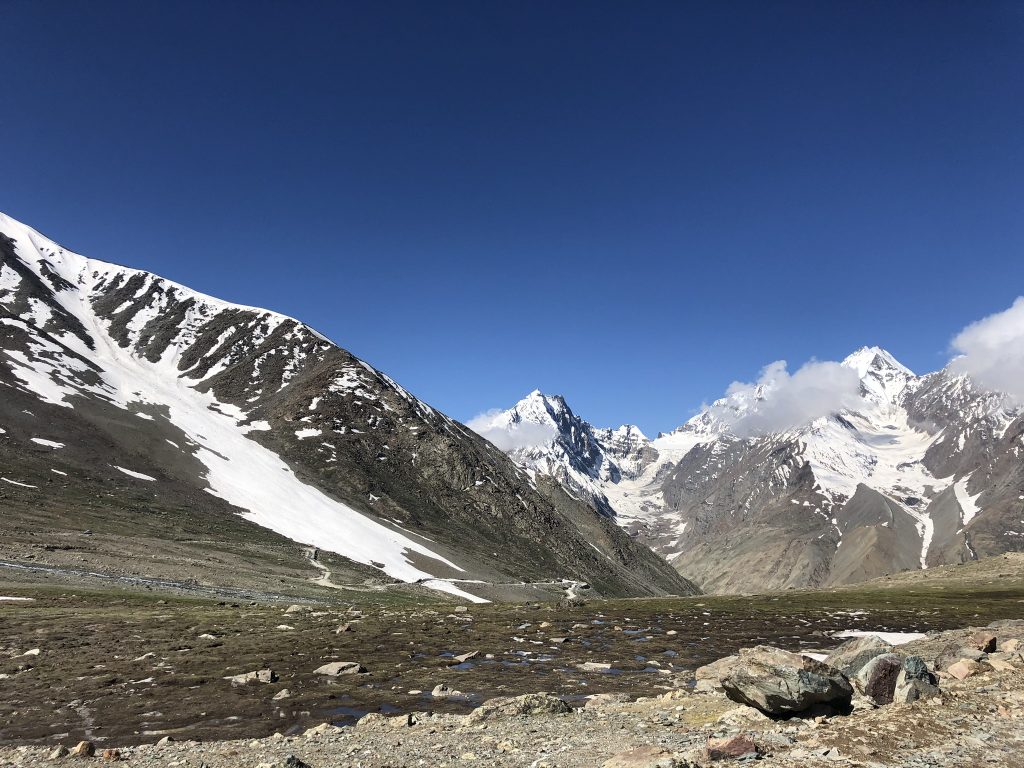 After descent from the Kunzum pass, we stopped at a dhaba at Batal. This dhaba is owned by a chacha-chachi. This Dhaba and the couple who own it are quite popular amongst the travellers. I got inside this Dhaba and saw newspaper cuttings on one of the walls. They all were written in appreciation of the courage and determination that this couple have shown in helping travellers during their journey. I personally spoke to the couple, appreciated and thanked them for their efforts and for the comfort and warmth they provide in this rugged and cold place! We all had tea, biscuits and continued our journey onwards.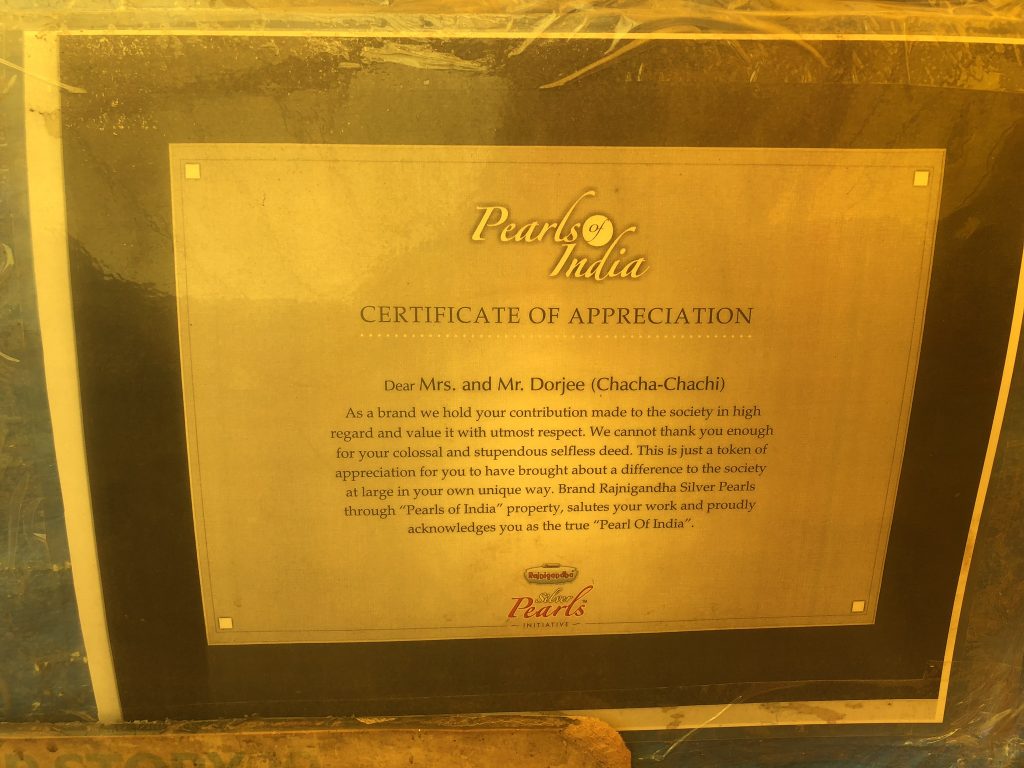 The drive onwards was quite a bumpy one. You could hardly see any road. This definitely gives you a scare sometimes but looking at the nature around makes one forget about all the hardship that a traveller experiences through the journey. The landscape slowly transforms. We could now see some green pastures on the mountains, snow melting down in the form of numerous small waterfalls all along the road.
We also spotted a few beautiful horses grazing on the green pastures! It was about 1:00 PM by now and we stopped at a Dhabha at Chhatru. We had lunch here, took some pics around and continued our journey. All along the journey we saw beautiful waterfalls formed by the melting snow. It was like a journey through paradise! I completely enjoyed this drive. Soon, we reached Rohtang pass. Now the landscape had completely changed. I was already missing the Spiti valley, its serenity and calmness! After a few mins, we saw vehicles piling along. Initially we were slowly moving but then we completely came to a halt. It was a huge traffic jam in front of us. The mountains were completely shrouded by the clouds and the weather was nice and pleasant. We picked up corn being sold by the street vendors here and waited for the traffic to clear. It took about an hour or so before we started moving slowly. The descent from Rohtang pass did take much longer than usual. Finally we reached our destination – Manali late in the evening. We were staying at a homestay located in the midst of an apple orchard! How lovely – what a way to end the trip! I hit the bed with some of the most beautiful memories of Spiti etched in my mind forever. It all came together like a dream. I felt fortunate as everyone does not get an opportunity to visit such places. This was undoubtedly one of the most memorable journeys in my life and I would like to thank the team at Naturextreme (NATX) for giving me an experience of a lifetime! I would like to specially mention the name of one of the founders at NATX – Mr.Sanjeet Mangat who was responsible for making this trip happen. I was amazed at the way he had given importance to all the minute details of the trip and made everyone of us feel so comfortable during the trip. Kudos to this man! I would also like to thank Mr. Nanda Kumar – also a founder at NATX for his constant support in making this trip happen. Last but not the least; I would also like to thank all my fellow travellers who made this journey more exciting!
That brings us to an end of my journey through the Spiti valley! Thank you for being a part of my journey to Spiti – the abode of gods!!
P.S – Message to travellers – The nature at Spiti leaves you spell bound. It still remains pristine and I wish it stays so in the years and decades to come and we as travellers must do our bit to protect the environment by avoiding dumping toxic plastic waste during the travel. We were cautious enough throughout the journey to re-use plastic as much as possible and by not dumping plastic waste.
Travel Tips:
Best time to visit is June – August. For the best winter experience, time to visit is February- March.
Stay hydrated throughout the journey.
Pack enough warm wear-sweaters, thermals, down jackets, woollen caps, gloves, hiking shoes.
Do not exert yourself.
Do not rush through your trip. Keep your itinerary spaced out with enough stops.
If you love doing photography make sure you have a wide angle lens & a good camera body. Sony alpha series is recommended for video.
Please get in touch with the team at bookmylens – Toll Free: 1800 121 0446
If you would like to have a glimpse of Spiti, check the video we made here
This Blog has been written by Neha Mutalik, Director at BookMyLens

She enjoys travelling and has shared her experiences through this blog.