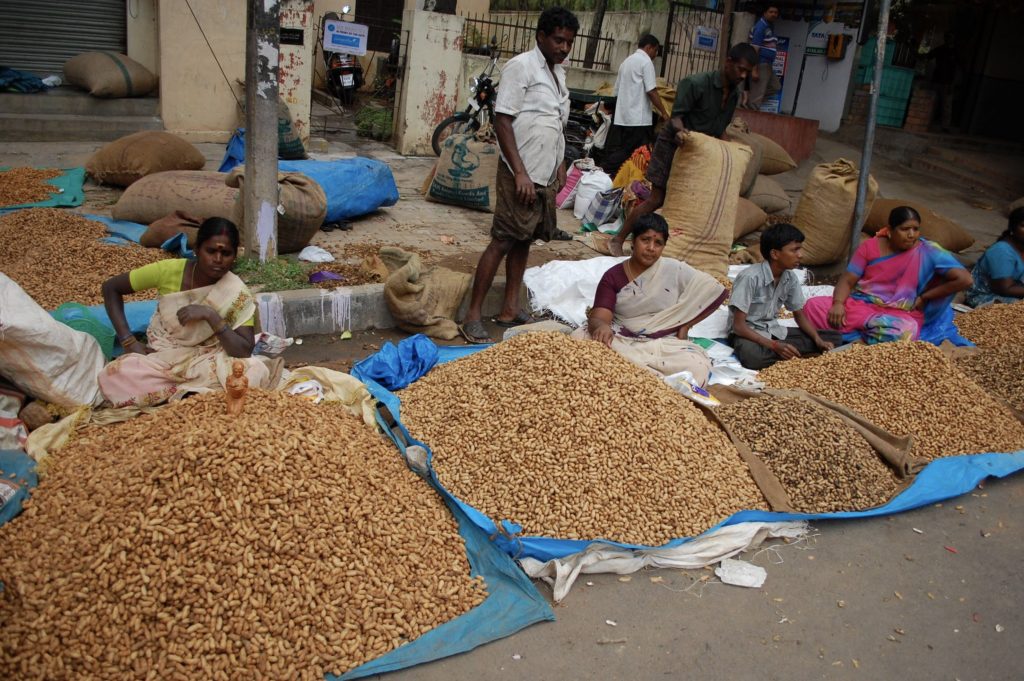 Kadalekai bekaa KadaleKai – This is how the sale begins during the World Famous Karnataka Kadale Kai Parshe in Southern part of Namma Bengaluru. Dodda Parashe is for two days and then the third day is Chikka Parashe.
The Fair/Mela offers the first Groundnut Yield to Basavanna.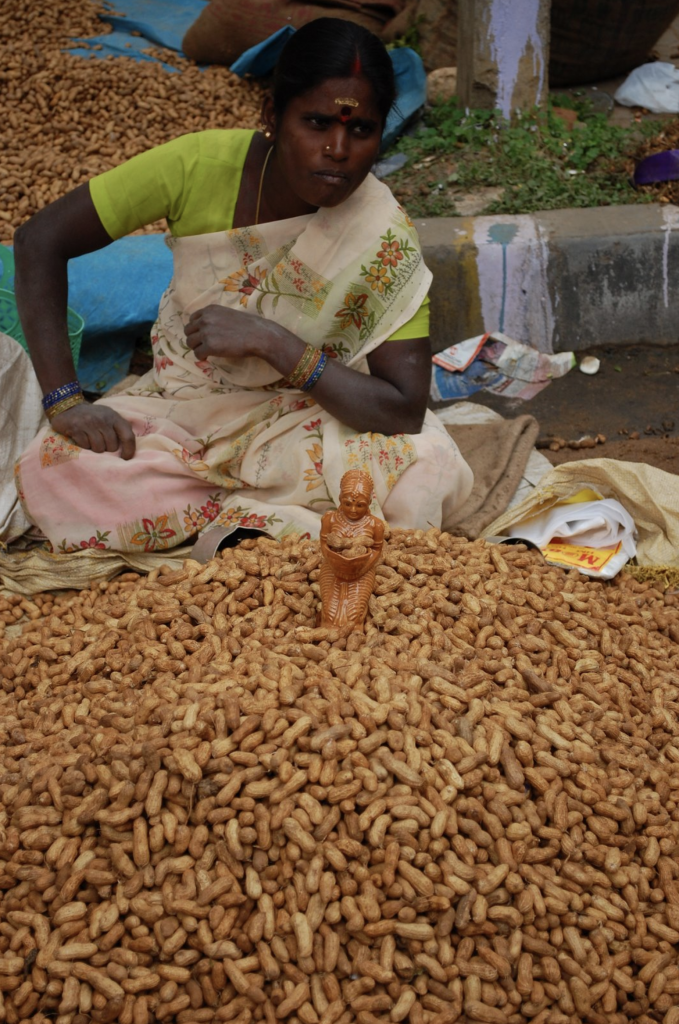 Like all software version updates we got to hear couple of versions of why this famous 2-3 days festival is celebrated in Basavanagudi only!
We spoke to Manigandan – Salem who is in this part of the town to sell the ground nuts which he has reaped and harvested in his land. According to him this Mela is going on for the last 70-80 years and this has been a Family Tradition which he is continuing "Some decades ago Basavanagudi was a forest! And it so happened that at that point in time Ground Nuts were cultivated here..During the Harvest Season it so happened that a Bull – Basava happened to ransack the land and the famer happen to beat the Bull to Death. Apparently not all are lucky to have a Second Life but this Bull did get one more. During the Second Birth it did trace out the famer and killed him just staring at him. All living things are to rest in peace and this is how this Basava died the second time as well.. The farmers then offered prayers to Basava (Nandi) to stop this and pledged to offer their first crop.
Subsequently, an Idol of Basava was found close by. Apparently if you happen to take a visit to this Temple you will notice one unique thing on the HEAD of the BULL. A Large Iron Peg is drilled into the head. The Version which we got to hear is as follows:
It has been said that, the Idol was growing rapidly, and the farmers nailed an iron peg on the head of the idol, which is visible in the form of a trishula even to this date.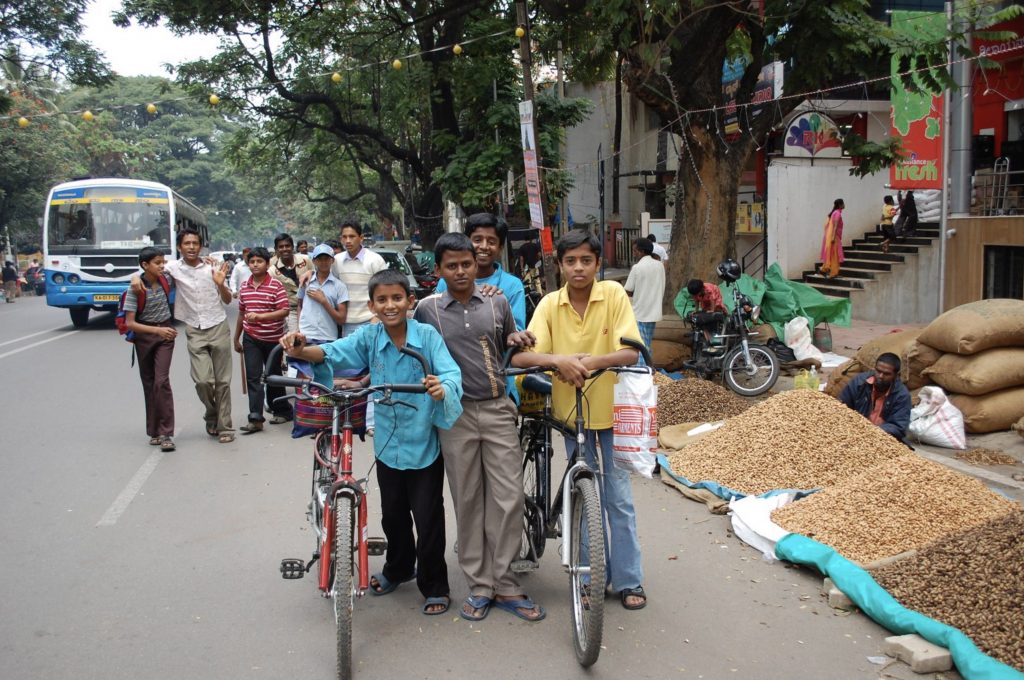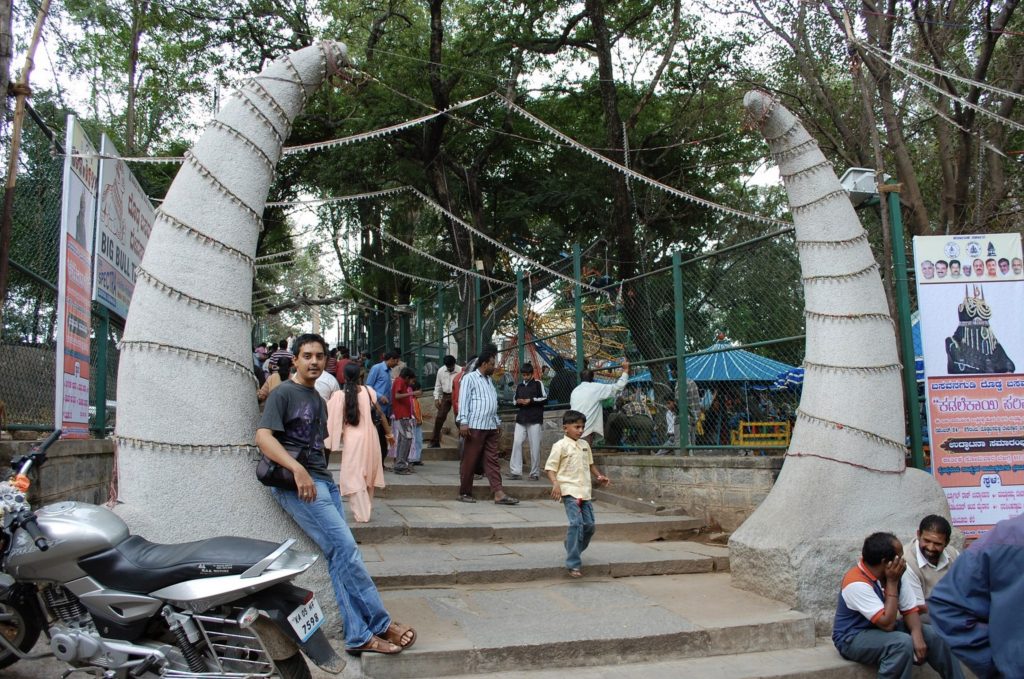 As you can see on the right an image which shows the entrance to the temple where you can find the basava idol.
We got to hear a Second Version as well from Selvi & Muniappa from Dharmapuri & Kollegalla. They seemed to be in line with one another may be because they had their stalls beside one another and here it is… The bull stopped inflicting damage and the thankful farmers held a Groundnut Fair (Kadalekai Parashe) which continues even to this day! A temple built in the Dravidian style by Kempe Gowda, founder of Bangalore, A bull, made of stone stands at 4.5 mts high and 6.5 mts long. The temple was supposedly built to appease a bull that devoured all the groundnuts/peanuts grown in the area.
Nut's are being trained in BASE to be the futuristic Engineers & Doctors while the actual nuts are on SALE!!!!!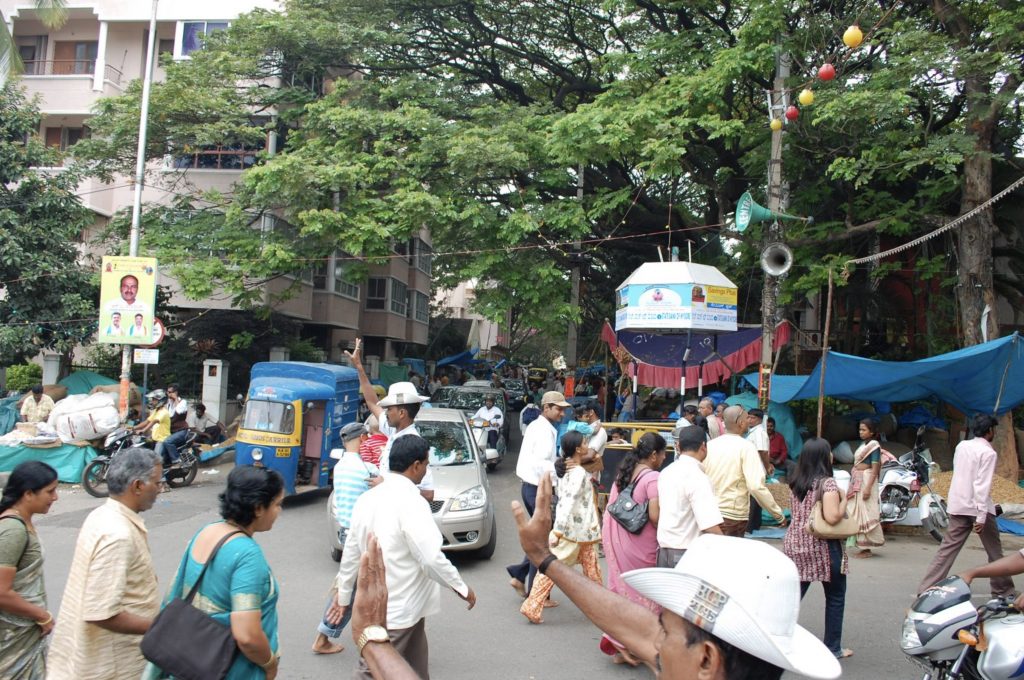 The Traffic is a mess out here during this time. All the side roads are a choco-block…Resident do not Crib here since they understand the Mela's Importance! The entire stretch of Bull Temple Road is lightened up with different shades of DISCO LIGHTS. Alongside of the footpath we notice different varieties of Ground Nuts…Roasted/Cooked/Raw/Salted mmmm…Oops I tasted all of it and its Jaw Dropping.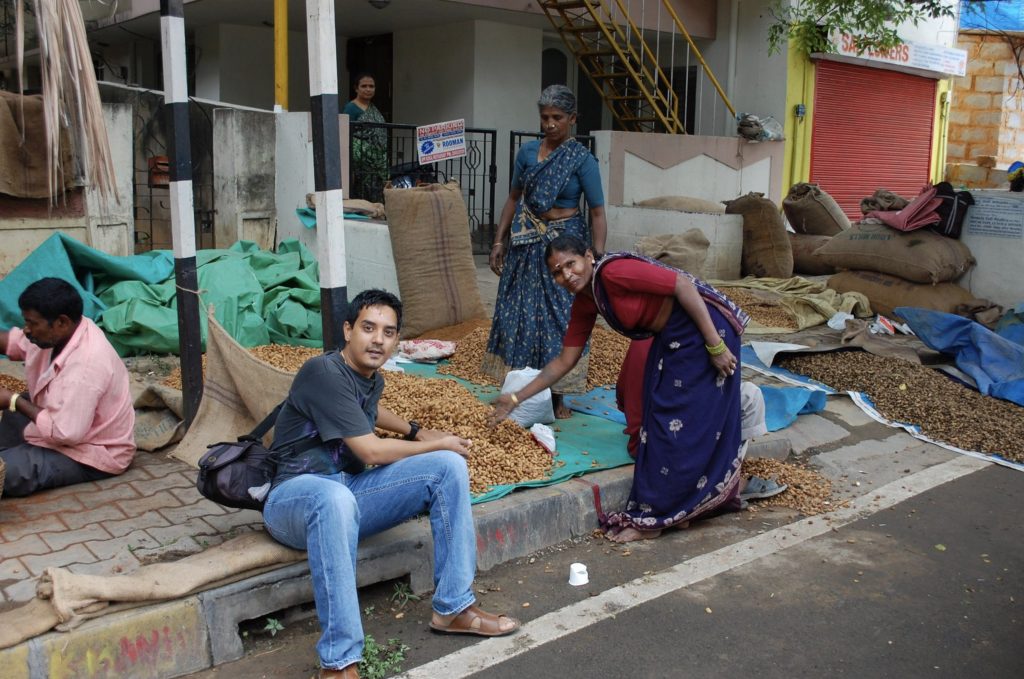 That's my friend Harsha who helped me in gathering some information about the whole event.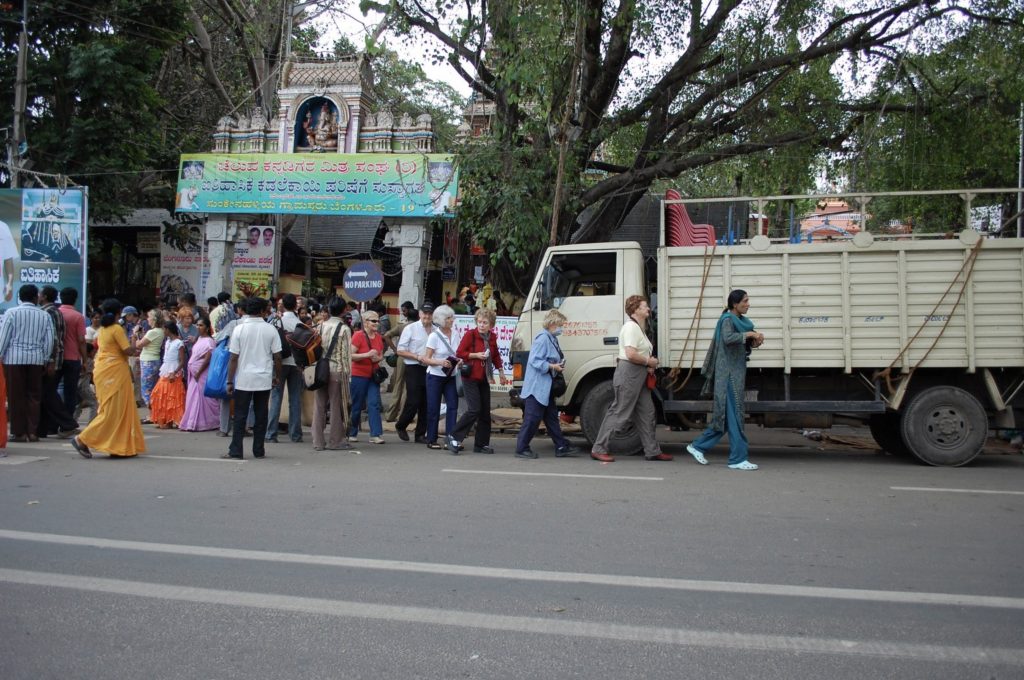 What makes it world famous kadaleKai parshe "The Firangs want to taste the NUTS without any Odour..hence they have masked their face not sure how they want to pop the nuts up…:-)"
Well apart from the Election Time we did notice a couple of Posters which had all of the recent Politicians having Clean Background to some Rowdy Elements…Not sure what is their role!
Just to name a few – Basavanagudi MLA – Ravi Subramanya; CM – B.S. Yeddy; Defeated MLA – R.V Devaraj and Muthappa Rai "Once a famous Underworld Don who introduced Gun's in Bangalore and has this title to his Credit is a part of Campaign. I understand that he is out of Criminal Activities and his hands are full with Jai Karnataka Activities.
Back to where we were…we did a ground check and believe me it is an AWESOME experience to walk around just to get a glimpse of the Heap of Grounds Nuts.
I am given to understand that people from far of places visit here every year and take part to either showcase some interesting articles which may be for sale and some for just Window Shopping …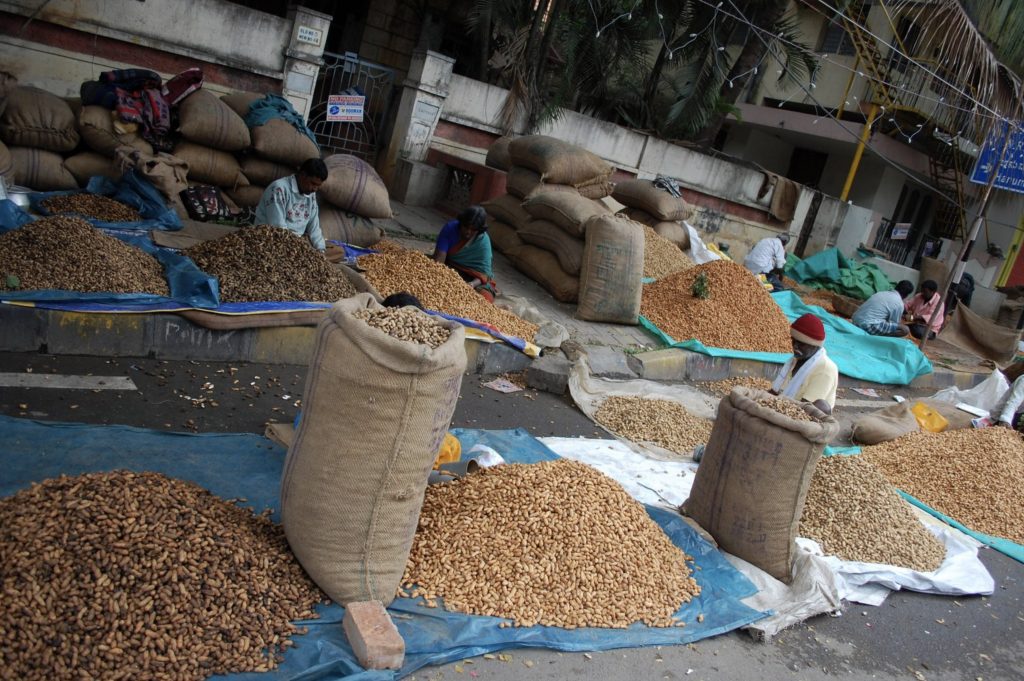 Land Mark Details:
** Basavanagudi – Bull Temple Road [close to Rama Krishna Ashrama].
Thank you all and I strongly recommend readers to witness this Fair "Kadalekai bekaa KadaleKai" during the Financial downturn which will keep you off the pressures since its very relaxing.
Original Source : http://bulltemple-road.blogspot.com/2008/11/kadalekai-bekaa-kadalekai-this-is-how.html